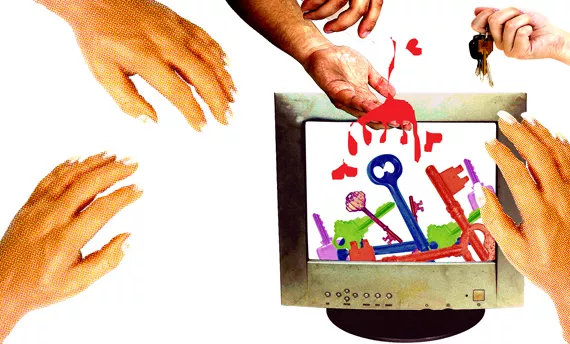 It's one of those terms that can't really be universally defined. Love is an emotion desired by some and avoided by others. And then there's sex...love's popular intimate counterpart; a passionate array of physical acts. Do they always have to come as a package deal? Are their powers just as strong if the duo is split up?
Dana [for purposes of anonymity, last names will not be used] thinks so. He's a local swinger. Not the raunchy, 1970s, silk shirt open-to-the-navel, cue-the-cheesy-porn-music type you might be picturing, though. He's level-headed, obliging and a dedicated companion to his long-time girlfriend. Though his lifestyle is a private part of his life, he opens up honestly to debunk some misconceptions.
Dana says there are a lot of websites marketing the salacious aspects of swinging to single guys. "They'll show very graphic scenes and say this is what it's all about, but it's not that way," he explains.
With more than 20 years of experience living the lifestyle under his belt, Dana is the director of Club ESP, or Extra Sensual People, one of Nova Scotia's swinger's clubs. Though Dana calls the province conservative towards swinging, Club ESP's mailing list is 1,600 strong and still growing---with members ranging from 25 to 55 years old. And as far as the Maritimes go, Halifax is where most of the swingers are, followed by Moncton and Saint John.
Dana became more aware of the growing population after taking part in the Everything to Do with Sex Show in January at the Cunard Centre. "It was way beyond our expectations, the number of people who came down to talk to us. There are a lot of new people that are very interested and curious." Now he's focusing on making changes with the club and helping it and others in Atlantic Canada grow by creating the Maritime Atlantic Swingers Club Association, a online place for different clubs in the region to get in contact.
One of the members of MASCA is Dartmouth's Club SOS, an off-premises club (meaning sexual activity doesn't take place at the club, but usually at a nearby location) that holds monthly events for its members. It's run by Verna and her husband. They've been married for 25 years and swinging has been their lifestyle for the better part of their relationship. Nine years in the making, SOS came from an experience at another club that didn't go so well, so Verna decided to "open an off-premises club where like-minded people could meet and maybe make a connection with no pressure." Now, her parties usually range from 80 to 280 guests.
The stereotyped scenario most of us think of when it comes to swinging might look a little something like a key party, where your mate for the evening is determined by whose keys you draw out of a dish. This swinging practice from the '70s is now a far cry from the modern lifestyle.
Swingers are generally couples that take part in various sexual acts with other couples, or sometimes individuals. The catch is the mutual consent: Swinging is not cheating because both parties agree upon it and in many cases are a witness to it. "Swingers don't cheat, we don't have to. Everybody has sexual fantasies, I don't care who they are," Verna states. "We just have the guts to make our fantasies a reality." These days clubs like ESP and SOS host parties with themes, costumes and icebreakers and focus more on networking and getting to know people than the act of sex itself. "If you look at the lifestyle today, and the direction we want to put this club in, [it] is 80 percent social, 20 percent sexual," says Dana.
Swingers tend to fall into different categories. "Fantasy swingers" like the idea behind the lifestyle, but are probably more comfortable keeping their distance. They usually communicate over the internet or the phone and sometimes attend events, only to look at the menu: They never order. People usually stay in this phase until they feel comfortable enough to take it further. "Open swingers" stay in the same room with another couple so that it is a truly shared experience while "closed swingers" play in a room separate from their primary partner. Some couples prefer soft-core swinging where they only share foreplay with another couple and keep the act of intercourse for themselves. It's the "hardcore swingers" most people associate with the lifestyle---the party anywhere, anytime type of people who, Dana says, are a minority. "A lot of time people in the straight world portray that we have a party, we lock the doors and by 9 o'clock everyone's naked...that is not the way it works."
While swinging is considered an infidelity by some, both Dana and Verna stress that it takes more than sex drive to be part of the swinger's lifestyle. So, it's not whether your relationship is lacking that little extra oomph, but is it strong enough to endure sex with other partners? "Swinging is not a marriage counsellor...it won't fix what's broken in your marriage or relationship," says Verna. "And if your sex life is terrible, it's not going to fix that." This is why swinging is a lifestyle rather than an act. It isn't just about what happens in the bedroom, but how you reconnect afterwards. "You have to have a good relationship..." says Dana. "To make this work you have to have communication. You can't just go out and play with somebody and not talk about it the next day."
Playing, or being sexual with someone, should be a shared experience; swinging is about your partner's pleasure just as much as it is your own. On top of communication, swingers usually abide by rules, not only set by the club, but within their couple. "We still have the same rules today that we did 20 years ago," says Verna. "We don't go off alone. If we're going to have fun it's going to be together; same room, same bed. It's about communication and comfort." And Dana and his girlfriend? When they play, it's always together and it's always safe sex.
Swinging begs the question of how someone could watch their partner engage in sex with another person. Members of the straight, non-swinging community often question the trust between a swinging couple and marvel at how---or if---it's possible to avoid jealousy's poisonous ingredient. This is where your emotions and your actions should become unconnected entities. "The first thing that you have to realize is that there are two things: There's a difference between sex and love and just sex," Dana says. "And once you separate those two things you can have a lot of fun. You'll play with somebody and that person will teach you something you didn't know. You're always learning."
Verna has come to realize that what she and her husband do in the bedroom alone can't be compared to what they do at their parties. "Swinging is just sex," she says. "A husband and wife outside of a swingers event...make love. If they swing it's not making love; there is a difference."
On Saturday night Verna, her husband and members of Club SOS will be celebrating at a Sweethearts Ball at an undisclosed location. Dana and ESP's Valentine's Day, on the other hand, will be a tighter knit house party as he's been too busy to plan anything bigger after the Everything to do with Sex Show. Swingers' parties are usually kept private to ensure comfort and freedom, so if you're looking to join in on any festivities, you'll have to take it up with the club's director. Reach them at sos-club.ca or club-esp.com.
So what will Valentine's Day bring, sex or lovemaking? If you like to swing, it looks like there's room for both.