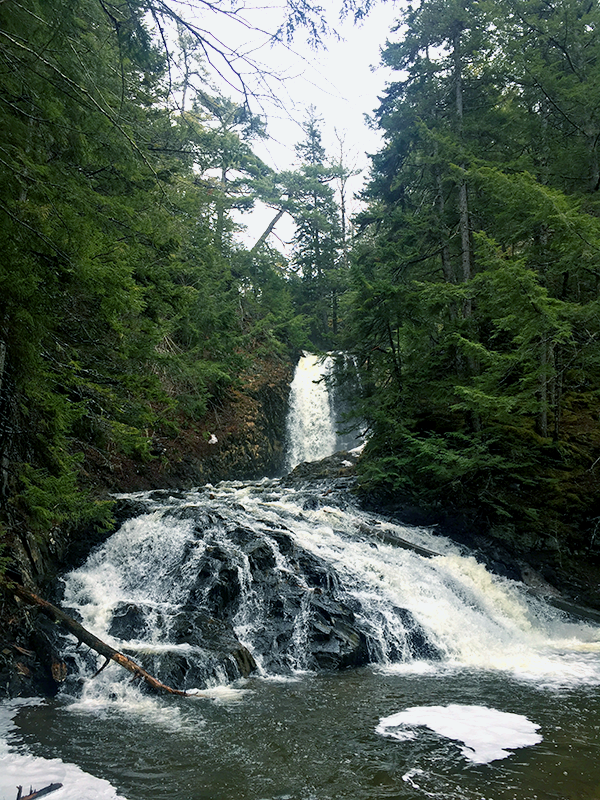 W hat sights and attractions remind you most of Nova Scotia? Beaches, coastline, lighthouses and lakes most often come to mind, but Nova Scotia is also home to dozens of breathtaking waterfalls. They come in different shapes and sizes with varying levels of difficulty to access—which makes waterfall hunting an equally varied and rewarding activity. Add these waterfalls to your to-see list and marvel at the beauty, serenity and energy of tumbling water. Let the chasing begin!
1POCKWOCK FALLS
This popular waterfall is one of the few in the HRM, so it makes for a great destination if you don't have the time or desire for a longer drive. It features a 25-foot cascade, whose power varies based on the time of year. (The rush of the water is especially impressive during the spring.) The waterfall is easy to access. From the parking area, it's a 1km walk down an old dirt road until you reach the bridge, where you then head upstream for 50-100m. There is no official trail but the falls are easy to find along the bank.
Location: Pockwock Road, Upper Hammonds Plains
---
2BUTCHER HILL FALLS
This is one of my favourite falls in the province and, in my opinion, among the most beautiful. It features two tiers: a drop of 30 feet which pools and then forms a wide cascade at the bottom. This waterfall is incredibly easy to access and there's not much of a hike involved—just walk a few dozen metres from where you park. That said, the dirt road that you have to drive down to get to the waterfall is in poor condition with large potholes so it's not suitable for all vehicles. If you don't want to put your car through that, consider parking at the top of the dirt road and walking up.
Location: Higgins Mill Road, Upper Stewiacke
---
3WENTWORTH FALLS
This large, gorgeous waterfall features a nearly 60-foot plunge that flows in all directions across the rock. The water cascades from out of a hole that was blasted in the rock above. Park your car where the Wentworth Valley Hotel once was, and find the logging road that leads to the falls after a short 400m walk.
Location: NS highway 4, Wentworth
---
4BEULACH BAN FALLS
This steep, stunning 65-foot-tall cascade is among the easiest on this list to access. Simply park and the waterfall is right there! If you're in the mood for a hike, Aspy Trail—the trailhead of which is just downstream from the falls—is a must. The 9km round trip features a gradual climb along a well-established trail, leading to a spectacular panoramic lookoff down the Aspy fault and valley.
Location: 456 Beulach Ban Road, between Pleasant Bay and Cape North, Cape Breton Highlands
---
5NORTH RIVER FALLS
Nova Scotia's highest waterfall at over 100 feet tall, this waterfall is breaktaking—both in terms of its beauty and the effort required to get to it. If you want to check this big, bad waterfall off your bucket list, be prepared—the trail is nine kilometres each way in and out to the falls (18km total), about a six-hour hiking time depending on your skill level. Be prepared for scaling and scrambling across banks, bring lots of food and water, wear good hiking shoes (supportive and waterproof) and make sure daylight is on your side.
Location: North River Provincial Park, Oregon Road, Cape Breton
---
These waterfalls can certainly be enjoyed during the summer, but consider visiting at different times of the year to see how the falls transform with different levels of water—from overflow during the spring thaw to more gradual trickles during the hotter, drier summer months.
It's up to all of us to keep these special places, well, special. It's unfortunate to see some of these treasures being disrespected with litter. Use a "leave no trace" mentality during your outdoor adventures and always take your trash with you—or even better, consider bringing a glove and bag to pick up from others and leave the place even cleaner and more beautiful than how you found it.
———

For more waterfall recommendations, visit my lists of waterfalls on Nova Scotia's mainland and waterfalls of Cape Breton at lauraahawkins.com.