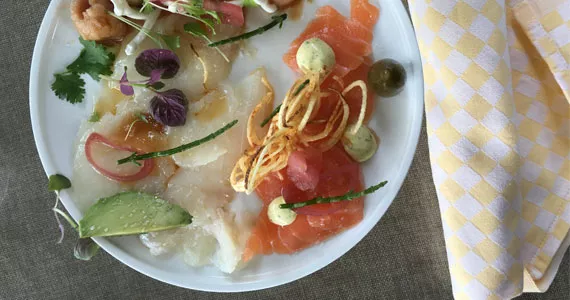 I went to Shuck wanting to love it. Expecting to love it, frankly. But I didn't. It's a good restaurant, but even with the creativity and rare-in-Halifax modernist point of view that chef Luis Clavel brings to the table, and as much as it tries to innovate, it doesn't reinvent the wheel in a way that I can roll with.
"Fusion" is a word people like to tiptoe around these days. It sounds dated and implies that whatever disparate food cultures are at play aren't dovetailing—aren't expressing a union of heritage and experience—as much as they are being forced into Something Cool. At this point, pretty much every restaurant is actually fusion, but capital-F Fusion restaurants tend to have a devotion to trends, so it's truffle-this, kimchi-that. Fusion cuts both ways at Shuck.
One thing Shuck does well is its beverage program. It's by no means rambling, but covers a lot of ground and offers a nice combination of old and new world wines, local beer and thoughtful cocktails that fold in nicely with the globally inspired menu. I opt for a flight of sake ($16), four one-ounce pours of a selection from the Rihaku Shuzo brewery in Japan's Shinmane Prefecture, which includes Dreamy Clouds, a lovely, slightly creamy, coarsely filtered nigorizake.
The sake is a great complement to the Asian influences on the restaurant's raw menu. The raw bar is a veritable ode to the great seafood available in Atlantic Canada: Oysters from all three provinces that come served with inspired accompaniments like liquid nitrogen mignonette and sea asparagus chimichurri, and delicate, marinated fish dishes, like a ceviche of Mahone Bay scallops and Advocate Harbour halibut sashimi. My interest in the menu wanes as the temperature increases.
The entrees are playful—chili, bibimbap, pogos, fish and chips, dumplings—but the seafood dishes essentially hide the fish in batter, sauce or a long list of ingredients. I'm excited by the grilled, whole fish until the server makes a point of saying it is served head-off, robbing the customer of the tender, flavourful meat found there. Altogether, it makes me wish this restaurant would love seafood as much as I want to love this restaurant.
We stick to the raw and "lightly touched" menus, ordering the trio of seafood ($21), three selections from the raw menu, asking our server to have the kitchen choose their favourites. We are rewarded with the salmon, halibut and tuna. The combined plating muddles some of the flavours, making it hard to tell what is intentional at times. The fish, though, is lovely and fresh, delicate, silky and buttery by turn. The halibut sashimi is the highlight, with a bit of creamy avocado, pickled red onion and skinny sticks of sea asparagus.
A single scallop served on the half-shell ($4.95) is a great combination of technique and simplicity, lightly torched and served with caramel onions and another dusting of powder. The octopus ($12) is impeccable, with two fat slices, tender and lightly kissed with grill marks, paired with tiny, tart pickled bits and a snowy sesame powder. This is the dish I wish defined the restaurant, but it feels like an outlier.
The calamari ($13) is thick, curved squid strips, breaded and plated with roasted artichokes, slices of tomato and sweet crumbles of chicharrón, a nice variation on typical calamari flavours. But the squid is slightly overcooked, each bite an elastic snap. The frites ($8) are overly hyped on the menu with nori salt-and-ginger glaze that seem absent; they taste like basic food truck fries.
Dessert is another highlight, the Boat Load of Things ($14) being a rare dessert that is absolutely perfect for sharing with its selection of tiny sticky buns, gooey nougat, chocolate macaroon, honeycomb candy and pate de fruits.
I will always be excited to hear about the things that chef Clavel is working on, but Shuck is, for me, a bit of a disappointment. Not enough to go nuts with the lowest-hanging pun, but just enough to say shucks. a
---
Shuck Seafood and Raw Bar
5120 Salter Street