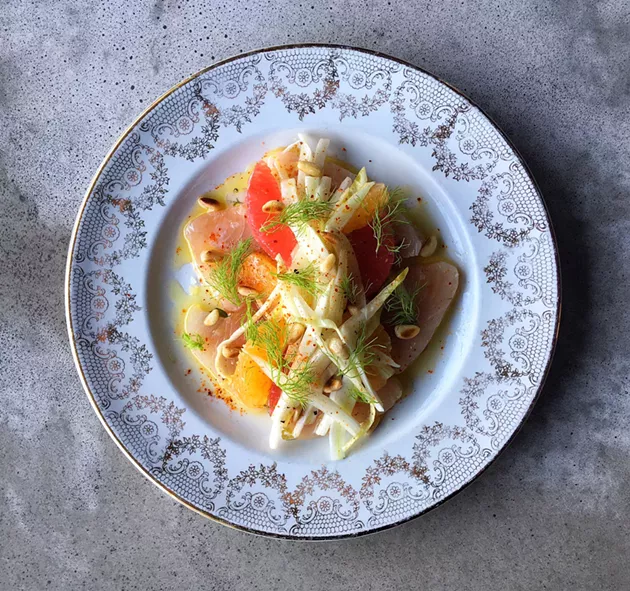 Bar Kismet
2733 Agricola Street
Tue-Sun 5pm-12am
One of the biggest downsides of writing about a restaurant that you really love is the potential to ruin your chance of ever getting a table at that restaurant ever again. When there are only a few dozen seats, you kind of want to keep every single one of them a secret. Everybody loves a hidden gem, right? So is it really so bad to want to bury it a little deeper? Think of the satisfaction people will feel when they finally find it!
Unrelated: It is a real shame that Bar Kismet is just a very terrible restaurant that you probably shouldn't go to.
Take it from me, a very honest person who is not at all about to spend 1,000 words digging a deep, dark hole and burying a treasure as far as she possibly can in order to try to keep it for herself. Is Bar Kismet one of the best restaurants that has opened in Halifax in the past decade? Absolutely!...not.
Yes, readers, it is incredibly sad that Bar Kismet is definitely not an enchanting space that hits a perfect balance between cool and warm—cool in the way that it has a very relaxed ambiance and is staffed by a collection of beautiful people, and warm in that it has an intrinsic grandmotherly quality that makes it feel like it has existed forever and will exist forever in a way that will always feel homey and welcoming. I decidedly don't look forward to seeing how age will comfortably wear into the details—the crannies in the white walls and the already classic wood barstools—how when the edges are worn off the newness of this space it will likely somehow be even more charming than it already is. Because it isn't charming. Nope. And that will absolutely not happen at this terrible, terrible restaurant.
You should categorically not go to Bar Kismet, but make an even more concerted effort not to go specifically on nights that I typically enjoy eating out, like, say a Saturday or Sunday evening. On those nights it is a particular horror I wish to save you from. This is a restaurant that unquestionably doesn't manage to have consistently attentive and convivial service even in the face of a line of people waiting for tables that practically tumbles out the door, some of them patiently sitting on a shelf inside the door like a row of pink-cheeked, cocktail-sipping dolls. What are they even doing there, those poor souls? Go home, people! You don't want a table!
"…it has an intrinsic grandmotherly quality that makes it feel like it has existed forever and will exist forever in a way that will always feel homey and welcoming."

tweet this
If only in the face of all this gruesomeness I could say that Annie Brace-Lavoie is fulfilling all of the promise made in her years in the kitchens of restaurants like Toronto's Bar Isabel and Buca. If only, I sigh heavily, I could say she is, as I expected, running a top-tier kitchen, churning out plate after plate of refined creativity that beautifully marries the sweet, savoury and saline nature of local seafood. But I can't. Or at least I won't.
Trust that I mean it was off-key when I say that fresh, silky slices of raw albacore ($14) sang with the bright sweetness of clementine and grapefruit sparking against bitter and perfumed bites of endive and fennel. And that the way the salt and heat danced in the airy batter on fried smelts ($10), plated curled together in the centre of a swirl of creamy, tart, herby green sauce as if still swimming together in a school—the once shimmering, silver cloud turned crisp and gold as if by magic—was the way guilty feet dance, you know, the ones that got no rhythm.
And it was obviously disgusting, the way the crisp outer shells of fingerling potatoes ($13) gave way to an earthy fluff that would grip to the rich tang of creme fraiche and dusk lushness of smoked arctic char. And the fullness of flavour that the singe from a grill gives to green onions, splayed like tendrils of seaweed in a sea of Salmorejo sauce, under supple, springy squid ($14) that popped with salt and the smokiness of its own char? Ugh. Gross.
Don't even get me started on a dish with luscious chunks of crab and carrots on a béarnaise sauce ($16) that teeter-tottered between sweet and blackened, luscious and crisp, or the way the creaminess of quick-fried sweetbreads ($14) plays off the entirely different type of creaminess of a tuna-tinged tonnato sauce and toasted nuttiness of scorched broccoli. Because, ew.
If only dessert was better. Who wants a creme caramel so light and airy that it's practically gossamer, its mild custard offset with glossy caramel sauce that dances on the precarious edge of burnt without ever toppling into bitterness? Not you, I hope!
If you're wondering about the drinks, thinking that there was at least one saving grace in this meal, I'm so very sorry to disappoint you. I'd love to report that Jenner Cormier continues to be the definition of excellence in bartending in Halifax—talented behind the bar in both craft and congeniality—and that the beverage program is nothing but a small, thoughtful selection of wines and well-crafted, interesting cocktails. Again, I'd just love to but I can't. (Won't. Whatever. Semantics!)
If anything, the Long Winded News of the Never ($13) was too balanced. And ordering an off-menu cocktail, like a Gibson ($13), probably doesn't always result in a crisp, perfectly stirred drink served in an adorable Nick and Nora glass with a little jar of pickled onions in case the one speared in the glass wasn't enough. That was probably a fluke.
If only I could say that Bar Kismet is the definition of a great restaurant. If only I could say their obviously personal approach, refined simplicity, focus on quality and sincerity elevates every single part of the restaurant—from the aesthetic of decor and plating to the combination of delicate and bold flavours—ultimately creating an immensely pleasant and unforgettable dining experience. But I won't. I'd tell you to go and see for yourself, but you shouldn't. You know what? I'll go for you and report back. No need to thank me. You're welcome.
Read more reviews at thecoast.ca/restaurants