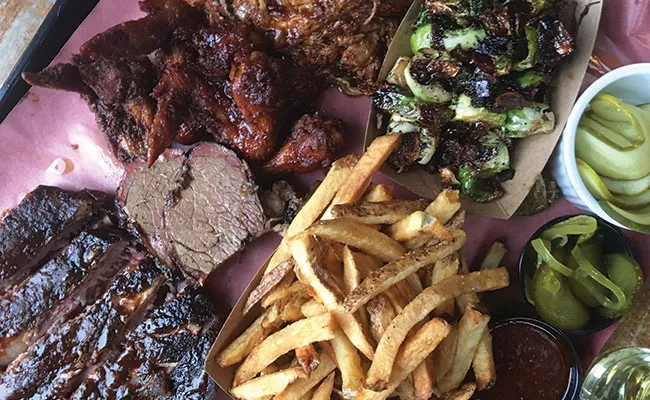 Bearly's House of Blues & Ribs 1269 Barrington Street
There's a sign in the parking lot of Bearly's, gleaming white with newness. "Amazing BBQ chicken 'n ribs!" it shouts in retro blue and red, an arrow with Bearly's written on it pointing towards the House of Blues and Ribs. It's the kind of sign that, with a year or two of grit and grime, will look like it's been there forever.
It's late on Saturday afternoon, just at the point where the sun is starting to dip in the sky, so the afternoon matinee is in full swing. As I sit down, the band starts playing an instrumental version of "It Had to Be You". Thick, warm bass resonates through the room as a guitar picks out the verse and a lilting violin sighs the chorus. Couples in blue jeans are twirling on the little dance floor in front of the stage. It's been awhile since I've been to Bearly's, but it feels like I was just there last week. It is one of those places that never changes and you hope never will, the comfortable worn-in jeans of the Halifax bar scene.
It almost seems strange that it took this long for Bearly's to offer Southern-style barbecue. It is a natural fit. The menu by Asado—a barbecue catering company that boasts a huge mobile pit—leans heavily on their signature grill work, with pulled pork, ribs, chicken and beef brisket. There is also some classic pub fare—fish and chips, nachos, fries—and that seems to be getting the most attention from the people in the bar today. There are nachos on every second table.
I order a Bulwark ($8) and listen to the band until my friend arrives. Once she does, she orders the same. Service is pretty chill: it's clear there are lots of regulars and the vibe is relaxed, but our server is friendly. Even as she leans on the bar and chats with other servers, they all seem to keep tabs on their tables.
We are both nursing our second cider when we dig into the Judge's Plate ($40), a platter that has sampling portions of brisket, pulled pork along with juicy, smoky chicken wings, a half rack of fatty ribs and two side dishes. I've rarely come across a restaurant mac and cheese worth anybody's time or money, so we skip that, the potato salad and the Caesar salad, choosing fries and Brussels sprouts instead. I'm disappointed there aren't options for beans or corn.
Asado's sauce is Kansas-style, sugary and sticky with a slight tang of vinegar and minimal heat. It's a nice sauce and complements the meat, every bit of which hums with a woodsy undercurrent, practically puffing with smoke. There is a rosy pink smoke ring on the ribs and the brisket, both of which have a charred bark, dark and chewy, the ends beautifully burnt. The ribs are a touch overdone but the meat still comes off the bone easily. The pulled pork is tender with crusty bits that add wonderful texture; there is no mushiness. It's delicious with the added crunch of the classic creamy slaw and the more tart bite of a vinegary purple cabbage slaw.
The Brussels sprouts are a highlight, charred almost beyond reason, tossed with big hunks of bacon and maple syrup, which combined with the blackened saltiness is completely irresistible. The cornbread could be a deal-breaker for a lot of barbecue fans: it's a sweet Yankee-style cake. I prefer a breadier texture, with a bit of crumble and the kind of crackling crust that a cast iron pan creates, but I am also pretty forgiving of cornbread in all of its forms, so I still like it. But if you have a heavy preference for Southern cornbread, you'll probably be disappointed.
When the band ends their exploration of the songs of Django Reinhardt, canned classic rock and chatter fills the air. Everybody else is still eating nachos. I have faith in that sign in the parking lot though. That, in time, it will form its own bark. Because Asado definitely feels at home in the House of Blues.