Trending
15 cases scattered over half the province April 19
Nova Scotia's COVID-19 numbers are higher on Monday than they've been in months.
April 19, 2021
7 cases, the Brazilian variant arrives and a second nursing home case April 18
Plus some late-breaking school cases on a sucky COVID-19 Sunday.
April 18, 2021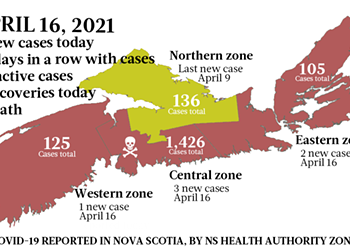 1 person dead, 6 new cases on Friday, April 16
The latest COVID-19 news and numbers reported by Nova Scotia.
April 16, 2021