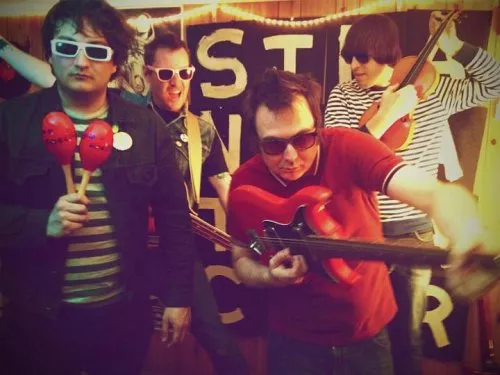 HPX is always a bittersweet time for me, I love watching bands perform, seeing friends and meeting new ones, but I dislike wearing festival bracelets and having any trace of a bar stamp on my hand the next day. Clearly, I deserve your sympathy.
I met two nice pals Adria and Nicole at the Atlantica, got my pass (and I wished I had grabbed more than one of those organic HPX lip balms... lavender oil? Good lookin' out New Moon Organics!) and shot the shit before heading to The Seahorse to see Outtacontroller at one of the last Seahorse shows in that location ever. I have to say the place looks no worse for wear, and it was a little sad to think of it not being there anymore. Outtacontroller sounded amazing, but—full disclosure—my partner drums in that band so I can't talk about them anymore. Instead I will say if I'm rating the safety of rock moves (and you know that I am), guitarist/vocalist Terry A'hearn's "fall suddenly on knees and rip solo" rock move won out over over bassist Matt Grace's "jump up suddenly during especially intense part" rock move. Everyone in the band is over 6foot and that ceiling is low, goddamnit. No one was injured but I was extremely stressed.
After Outtacontroller I ate a portion controlled amount of chips then got to Gus' Pub just in time to see Strange Attractor. I am a huge fan of this band and it's hard to imagine anything else at the festival topping their tightness and intensity. Also worth noting is that the sound folks for HPX are so far doing God's work. I have never heard better sound coming from the Gus' stage in my life. We bought a bunch of merch and left because SOME of us have to get up at 7:30 in the morning. But based on Mark Grundy's (Heaven for Real, Quaker Parents) recommendations I made a real dick move by missing Soupcans. Sorry, but they were playing at the same time as this little band called Wynken, Blynken and Nod performing their hit single, "Two adults plus one cat snoring at different volumes." —Steph
Anyone who's spent any time with Lil Adria (that's me!) knows I love cake. I love Drake's kind of cake, but I really love those heavy Sobeys-slabs of flour and sugar with crazy rainbow doodle jobs. Basically, if you want anything from me, promise cake. So with cake in mind, I hit up HPX's Opening Party at The Seahorse because I knew there'd be cake. Sweet jams were supplied by local cake boss, DJ James Reid, who played sick custom-mixes for two hours, from chopped and screwed Mariah Carey to the new A$AP Rocky/Juicy J and some good old Project Pat. DJ James Reid is one of the biggest hip hop heads I know and is very pretty creative with his blends. It was the perfect backdrop for top-quality industry mingles. All you pass holders missed out on free beer! And you better believe I ate a whack of that cake. 

After swinging by HPX hotel, The Atlantica, to pick up some crap and meet some young tech wizards presenting at COLLIDE, I returned to The Seahorse for Halifax's garage pop-punk band, Outtacontroller, one of my favourite local bands, due in part to Matt Grace's near-transformation into Johnny Ramone. Chris Murdoch pounded the drums like there was a building on fire with a cake inside and he was trying to save the cake. Not my best analogy but I'm hungover and could use some cake. Outtacontroller played my favourite song from 2012's Don't Play Dumb, the ear-wormy "Put It On High," and some new ones. Next time Outtacontroller plays, I hope to see you there. So high-energy, so fucking awesome.


Then I went down to the new Reflections with HPX staffer and my private Uber taxi, Nicole Holland, because I hadn't been in the new Reflections yet. My first impression was that it felt nothing like a bar in Halifax and that felt really cool. My other impression was that the balcony space would be ideal for movie screenings or art shows along with music events. But we all know it'll be club-greasy in a few months so soak up the freshness now. I watched all of Astral Swans, which I rudely called Astral Yawns and which isn't true or nice, but the acoustic, slow solo set really disjointed the electro-vibe that Vogue Dots had established and which Petra Glynt had to re-animate for Austra. What I saw of Toronto's Petra Glynt was mind-blowingly amazing. She wore a weed-leaf necklace, was captivating, powerful, and like a Lisa Frank Geocities fan-site come to life. She sounded so great and totally pushed the aural edges.


But someone(s) had gas and farts were wafting all over the place. I mean, look, if you have gas, just go the fuck outside for like two minutes. No one cares if you're farting outside. Your farts are not the new U2 album; don't assume we all want it. I went home a bit early, I was all caked out: the amount of fun I had on the first day was a huge surprise. I went into it open-minded, I had great conversations with cool people, I saw a couple old and new favourite bands, and I can't wait for tonight. Less farts, more cake. —Adria