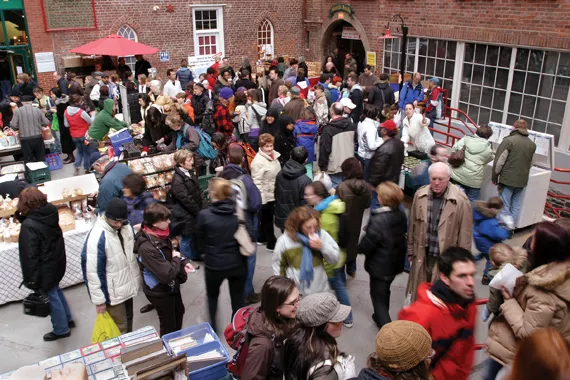 Condos are going up at the Historic Farmers' Market's current location and some aren't happy about the change. Farmers' markets have been on Haligonians' minds a lot recently between the Seaport Market's vendor shuffle, and the announcement of a new farmers market at the Halifax Forum, which is scheduled to open May 2nd with 50 tables for vendors. All of this draws attention to what Jessica Ross, president of the board of directors of the Historic Farmers' Market, calls "farmers' market culture", something she says is of vital importance to the city.
About half the space currently used by Historic Farmers Market vendors was sold to Killam Properties, which will build a 240-unit housing residence that'll take up the parking lot used by customers of the old market, effectively making it more difficult to have the "market experience". The vendors were told of the sale unexpectedly just over two weeks ago.
Killam is set to break ground in the second half of this year, but the development is likely to affect the space for about two years. This is why Ross and her non-profit co-op of 40 solid vendors are not sure where they will set up shop next. There is still space in the Alexander Keith's courtyards and a currently unoccupied room, but Ross says due to construction woes they have made no decisions on whether to stay or go and are still on the look out for a new location.
"We've been together now for five years. We operate as a non-profit co-op, and we all really want to stay together. There is some uproar because it's going to be very disruptive. Our access to the building is going to be massively restricted and it's not going to be a destination unto itself. It's going to be a hassle. So in recognizing those conditions we're using this as an opportunity to look at what we want for the future of the market and where we want to best serve our customers," says Ross.
Ross adds that The Forum market is a smart idea. She feels there is a demand for such a space in the north end. Although she says a few vendors from the Historic Farmers' Market may move to this new location, for the most part they are all committed to staying together. "We want to maintain our status as a cooperatively run farmers' market instead of a privately run project."
Ross believes that some of the problems the Seaport market's been having are related to the fact that it's managed by the Port Authority, and not a co-op. "We [Historic Farmers' Market] have a lot of integrity in our products. We don't allow reselling. The Seaport market isn't very stable. There's a lot of bad press and political drama happening there."
As far as her personal views on the matter, she hopes that "farmers' market culture" can thrive in Halifax. "A lot is happening and it's exciting; I hope we can be unified as a group of farmers' markets in the future."