HRM staff are willing to play hardball when it comes to protecting the Blue Mountain-Birch Cove Lakes lands from private development.


A staff report published Wednesday afternoon is recommending Regional Council ignore Justice Heather Robertson's facilitator report and come up with a new plan to purchase and protect lands in the proposed Blue Mountain-Birch Cove Lakes wilderness park.

Robertson's controversial report had sided with private landowners Annapolis Group and Susie Lake Developments. It recommended HRM buy property from the firms for an inflated $6-million price tag and let the companies develop what land they were left with by opening up the secondary planning process. But today's staff report claims Robertson's recommendations fail at nearly every objective for park planning.


"Staff respectively disagree with this conclusion," writes HRM's principal planner Ben Sivak. "…Given that there is no immediate risk of development, there is considerable time to explore a variety of approaches for establishing the proposed regional park."
Sivak's report recommends taking "no further action" concerning Robertson's report, and refusing to initiate secondary planning on the Highway 102 West Corridor lands.
The report also contains the much-alluded-to Map 3A—a secret map developed during the facilitation process by HRM staff with an alternative park boundary. It was developed as a compromise, staff write, to the proposal put forward by the developers.
"It represents a minimum, as opposed to ideal," staff write.
Council voted in July to release the report and secret map a couple days earlier than normal to give the public and councillors time to go over the document before the long weekend.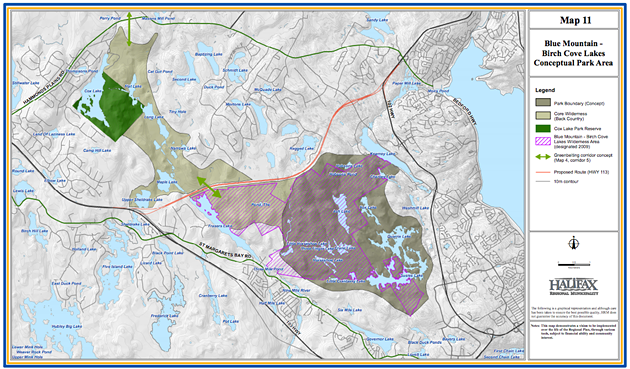 Blue Mountain-Birch Cove Lakes (BMBC) was identified for a preserved park in the 2006 Regional Plan, and those plans were ratified again in 2014. Technically, the 2006 policies are no longer applicable, but city staff still reviewed the facilitator's report under those decade-old regulations (by request) and still found the plan lacking.
"The city staff report provides clear direction for Regional Council," writes Canadian Parks and Wilderness Society biologist Chris Miller in a statement to The Coast. "It reinforces the significance of the Birch Cove Lakes as a regional park and says no to secondary planning. City staff are listening. Hopefully Regional Council will as well."
Fifteen different private land owners have claim on property within HRM's preferred park boundaries. Development firms Annapolis Group and Susie Lake Developments own the vast majority of that land—45 properties totalling some 550 hectares (three hundred of which are within the park's conceptual boundaries).
According to today's report, a tentative agreement has been reached between HRM staff and Susie Lake Developments with respect to selling the park land, but both Susie Lake and Annapolis have indicated they won't agree to any park boundaries without council first granting a request to initiate secondary planning strategies for their lands—most of which is zoned urban reserve and unable to be developed until at least 2031.
Staff say not only is that request inconsistent with the Regional Plan, the additional lands are unnecessary for HRM's current growth and its development would only impose a financial burden on the city.
The staff report also rejects the $6-million valuation Annapolis put on its own property. Municipal appraisers only value the lands at $2.8 million. Sivak writes that Annapolis' price is an unreasonable estimation of market value.
"Given this context, staff advise that the valuation put forward by Annapolis Group does not reflect a willing seller and should not form a basis for further discussion."
Instead, Sivak writes, council should direct staff to find a new way to purchase the lands for a protected wilderness area—which could include expanding the tools used to acquire property for planning purposes, land trades, conservation easements, partnering with provincial or federal departments and conservation groups, and also discussions with all the other BMBC land owners (not just the two development firms).
Council will debate the recommendations on Tuesday at City Hall.