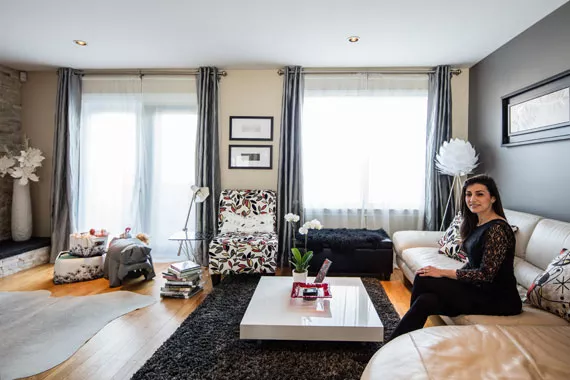 What makes this room your favourite?
It's the heart of the house. The openness of the space is bathed in natural light from both sides, let in by generous windows that also provide cross-ventilation during summertime. One of its great appeals is comfort, space flexibility and the atmosphere of airiness that is further enhanced with the various shades of white furniture. It's where we spend time as a family, where I watch my daughter play and dance, where we welcome our friends when we entertain, but most of all a place where I get to relax after a hard day at work with a good book and the sound of my favourite tunes, or just watch TV.
The inspiration: I'm a big fan of minimalist decorating style and modern interior design. My love of natural materials, bold colours, simplicity and functionality in particular were the main inspiration for this room. The less-is-more approach came into play by selecting clean lines, sharp forms, sleek trend-proof furniture and a neutral colour palette and then enlivening it with splatters of patterns and shots of fiery red to make the space feel vibrant.
Key details: The natural light is one of the key elements in my house—it helps meld the minimalist features. The slim silhouette sectional positioned against the large window allows the floods of sunlight in, opening the space to the backyard but also turning the focal point to the natural stone wall with the ribbon fireplace. The floral chair that is taking the centre stage between the big façade openings is paired with the handmade plexi-glass table, generating this contrast mixture of style and materials.