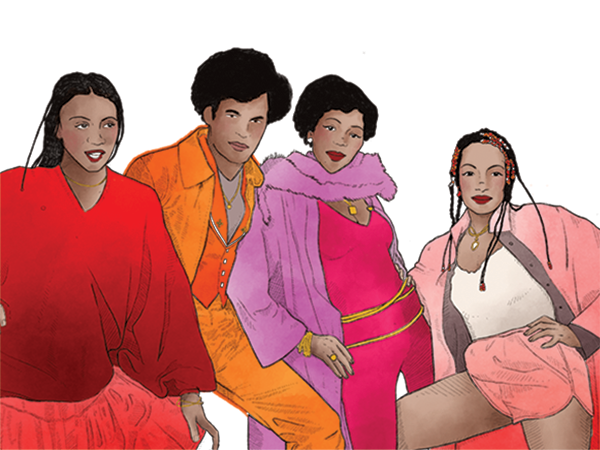 Boney M.
Dec 18, 7:30pm
Scotiabank Centre, 1800 Argyle Street
$61.75-$73.50
---
Boney M. is not a perfect cult disco group. It is perfect, period.
The foursome—including original lead vocalist Liz Mitchell—will scorch the Scotiabank Centre on December 18. Dig out your damn body glitter.
Founded in 1974, Boney M. was always too out-there to be as mainstream as its near-year-for-year contemporary ABBA. It travelled too far from the happy handclaps of disco; proved too genius in its sartorial one-upmanship.
The group—concocted by German producer Frank Farian—revelled in high blue eyeshadow, percussion, gold lamé, bedazzled swim caps and sex. Its trademark look and sound? Fabulous don't-give-a-fuckery.
Farian, later the architect behind disgraced lip-synching duo Milli Vanilli, was the male voice on Boney M.'s studio tracks. Bobby Farrell, who died in 2010, was the stage face. And body.
The current tour—with such disparate stops this month as a Saskatoon soft-seater and Wembley Arena with Jimmy Somerville and Nik Kershaw—is billed as classic hits and holiday favourites.
That means "Mary's Boy Child—Oh My Lord," a melodious tribute to the christ child, "Rivers of Babylon" and "Brown Girl in the Ring."

Alone worth the $73.50 floor ticket will be the four-and-a-half-minute opus "Rasputin," a sordid, bumpin' tale of government influence resonant today.
(You won't hear "Gadda-Da-Vida," the 1980 cover of the Iron Butterfly hit of the almost same name; Farian recorded it with a collection of non-Boney members during an off-again moment with the group.)
Don't mistake the promise of this show as mere nostalgia—Boney M. represents the simplest pop-disco and the zenith of complex narrative song, the latter approached only by Barry Manilow's "Copacabana"—yet, like Boney M. itself, never eclipsed.