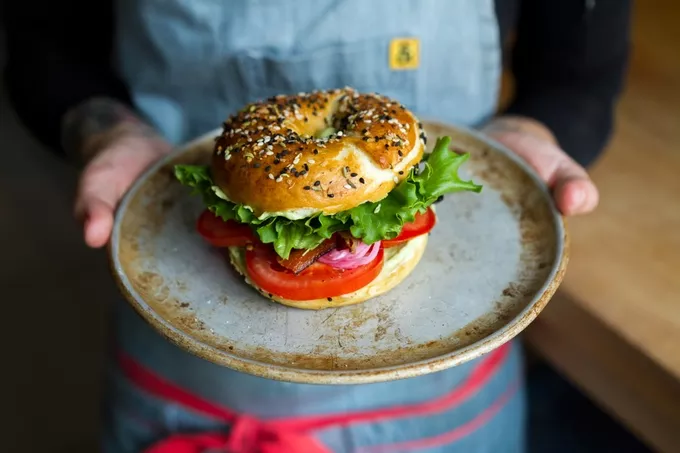 Advantage, Portland Street.
Today chef/owner Renée Lavallée announced that after two-plus years slaying the sandwich game above Two If By Sea (66 Ochterloney Street), The Canteen is moving, and expanding. The brand new, 55-seater restaurant is set to debut in early 2017 at 22 Portland Street—the longtime home to the iconic-looking, family-run Sun Sun Cafe.
"When we opened this location we wanted to bring a lunch spot to the neighbourhood, and I wanted a work-life balance because I had two small kids. But now my kids are older," says Lavallée of the decision to grow. "It was a very natural progression. I just want to bring a neighbourhood restaurant to downtown Dartmouth. We're a family restaurant moving into the home of a family restaurant of 40 years."
The plan to grow has been in the works for over a year, but she calls the location a bit serendipitous. "My friend said to me, 'Renée, I'm thinking about buying a building on Portland Street,' and we just looked at each other and said 'Sun Sun'," says Lavallée.
That friend, Elliot MacNeil of Bruno Builders Inc., is renovating the building for both retail and residential space, while By + Large Studios (Lot Six, Primal) will be behind the new Canteen's design. The move will allow the restaurant to serve both weekend brunch and full-service dinner, while expanding on the lunch foundation its been building 2014. (In short, your sandwiches aren't going anywhere, don't worry.) As always, Lavallée will have a strong focus on local ingredients, a sensibility that will be echoed in the bar program.
"I want to go somewhere where it looks comforting and its not loud, I can have a conversation across the table. I want to feel like I'm walking into someone's house," she says of the inspiration behind The Canteen's expansion. "I want people to be able to read the menu and not be afraid. It'll be seasonal and local, simple food that I would want to eat."
The Canteen is looking to raise $30,000 for the renovations—er, gut job— and associated costs of the move. Check out the Kickstarter campaign, here.