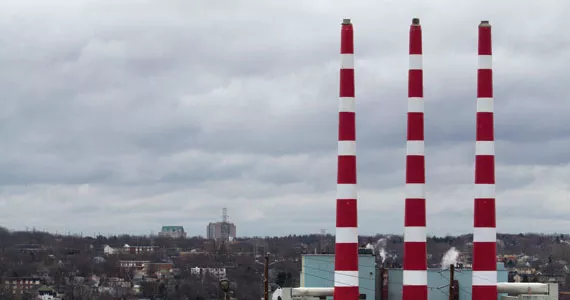 In terms of electricity generation, Nova Scotia is one of the dirtiest, most polluting jurisdictions in North America. We now produce about 85 percent of our electricity by burning fossil fuels---mostly in four gigantic, greenhouse gas-belching, coal-fired power plants in the northern reaches of the province. The provincial government has set a firm target for reducing that reliance on fossil fuels; by 2020, one-quarter of our electricity is to come from renewable power generation. But targets are one thing, and actually achieving them another.
So far, Nova Scotia has tried to increase renewable production by ordering Nova Scotia Power, Inc., the electricity monopoly, to acquire more through traditional tendering processes: NSPI puts out a tender, and various corporations say we can provide X amount of green power for Y dollars. The company that comes in with the lowest bid gets the contract.
The problem with this method is that it's a race to cut costs---companies try to do things on the cheap to win the bid, then find they're undercapitalized or that the banks won't lend them money because the business model is too risky---and so the project falls apart. Less than half the renewable projects that NSPI has contracted for have actually been built.
There is, however, another model. Jurisdictions in Europe have long had what are called "feed-in tariffs"---a requirement that utilities buy renewable power not at the lowest cost but rather at a higher, fixed cost---anyone can produce green power and sell it to the utility. The fixed cost is high enough to cover capital and operating costs and a reasonable profit for the renewable power generator, and because it establishes a fixed rate of return, banks look more favourably on financing the ventures. Feed-in tariffs are a big reason why European countries have been so successful in creating green power.
North American jurisdictions, notably Ontario, have only recently started establishing FITs, and now Nova Scotia has created its own--- FIT rates were established by the Utility and Review Board on April 4, and green power generators should start putting forward projects next month for review; we can expect these new green power sources to come on line in the next year or two.
But Nova Scotia's FIT system is unique. Here's how it works: Instead of opening up the FIT process to just anyone or any company that wants to produce green power, the province says that only those projects that have a majority ownership of a "community organization" qualify for consideration; our system is called a Community Feed-in Tariff, or COMFIT. There are five kinds of community organizations allowed: Municipalities, universities, First Nations, cooperatives and Community Economic Development Investment Funds.
"It combines the FIT model, which has proven very powerful, with something we have a long history of here---local ownership, going back to the credit union movement," says Dan Roscoe, chief operating officer of Scotia Windfields. "It's a very progressive application of a renewable energy tool."
Like other FITs, the COMFIT system sets guaranteed rates for five different kinds of renewable power: Big Wind (wind farms of more than 50 megawatt capacity), Little Wind, hydro, tidal and biomass. Rates depend on the risk---tidal power is considered risky and innovative, so rates are high. Wind is a proven technology and has lower rates. Absent from the list is solar power.
"It's downright criminal they're not including solar," says Neal Livingston, owner of Black River Wind. "Solar produces the most jobs, the most economic activity and saves people the most money. People should be up in arms about solar not being included."
As Livingston sees it, the COMFIT process has been "perverted" by special interests, as demonstrated by the biomass and tidal elements, which have been shoehorned into the COMFIT process even though producers are not community organizations.
Biomass generation takes place only at the province's sawmills, notably Minas Basin Pulp and Power, owned by the wealthy Jodrey family. Nova Scotia's FIT for biomass does not require timber to be sustainably harvested---the wood pulp burned for biomass will come almost entirely from clear-cutting forests.
Minas also has a stake in tidal power, as does OpenHydro, a firm that is owned in part by Emera, the parent company of Nova Scotia Power. An OpenHydro tidal turbine is presently being tested in the Bay of Fundy; if successful, it will be eligible for the COMFIT. "They should've used FIT models that work elsewhere," says Livingston. "Instead, they've rigged it so only the connected few can benefit."
Ownership and rates aside, the power to be generated through the COMFIT is too little, too late, says Brennan Vogel of the Ecology Action Centre. "We need about six times that much renewable," he says. "This is a start, but it doesn't really address the issue."