One of the oldest buildings in Halifax without official heritage status is getting another shot at life thanks to its new owners.
Galaxy Properties is working with HRM's heritage team to try and save the Elmwood, and it looks like it might actually happen.
"I think the odds are very good," says municipal planner Aaron Murnaghan. "We're very willing to be flexible and work with the developer to find a solution that's going to end in retaining that building."
Tony Metlej's
Galaxy Properties
recently bought 5185-5189 South Street from Principal Developments (owned by Paul, Renee and Peter Metlej), who had owned the property since 2014.
Murnaghan says discussions to preserve the Elmwood
were
ongoing even before the sale. After the property changed hands, Galaxy approached city hall about what tax incentives could be offered to help save the 110-year-old structure.
The developer's request dovetails with work
staff is already undertaking to create new planning incentives
for the proposed "Old South Suburb" heritage district. In exchange for the restoration of historic buildings, HRM will offer more flexible development rights.
A staff report on the idea won't be back to council for another few months, though.
"He's out ahead of that a little bit," says Murnaghan about Metlej's request for help. "So we've been discussing ways we might be able to facilitate his restoration."
The current Elmwood building
dates back over a century
to the hotel owned by famed sea captain James Augustus Farquhar. Over the decades it's been
home to generations of Haligonians
. Counted among its more notable former tenants are Ellen Page and area councillor Waye Mason.
But time and neglect have left the property in dire need of repairs, making it practically unsalvageable.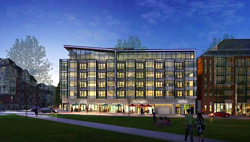 Principal Developments had planned to
tear down the site
and erect a six-storey apartment complex. The idea was
protested loudly by local heritage advocates
like Saint Mary's University professor emeritus
Larry Haiven
.
Galaxy's decision to try and preserve the site instead is—according to Haiven—a sign of something important happening in HRM's development scene.
"It shows the city of Halifax is beginning to take a more creative approach to saving important heritage buildings," he says. It also shows there's "more of a regard among some developers for
heritage,
and the fact that heritage is not incompatible with development."
But the Elmwood isn't out of the woods just yet. Galaxy still needs to present its plans for the approval of staff and HRM's Design and Review
committee
.
According to Murnaghan, that proposal will include additional density. The developer wants to build new residential units along the side and back of the building (currently a small parking lot), which will push the Elmwood even closer to the "
SOHO
" building Galaxy is finishing next door on the corner of South and Hollis.
Should the process stall, or if Metlej changes his mind, the prior planning agreement for a six-storey mixed-use building is still in play.
"Tomorrow he could go in and get development permits for that and start construction," says Murnaghan. "So we've still got quite a few hurdles to get through to get something that we would approve."
But both sides are hopeful.
"He's expressed a willingness to keep it if we're willing to play ball," says Murnaghan, "and certainly we're willing to play ball."