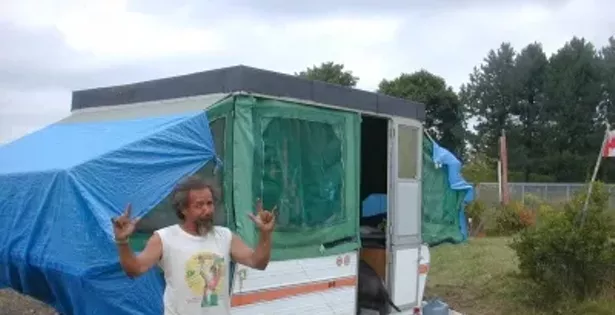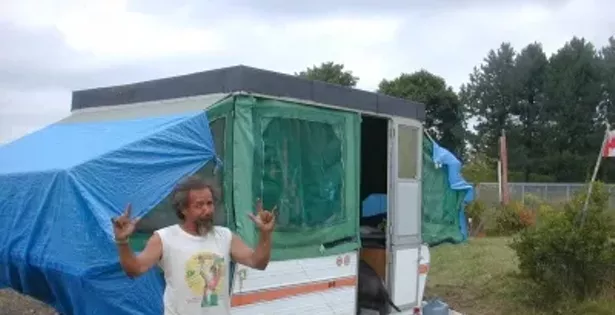 "Hello!" I shout, as I descend a short embankment from the road into a makeshift campsite on the backside of Seaview Park. I'd been drawn here by the "Africville Protest" sign nailed to a telephone pole, but only now get a full view on the camp, which includes a camper trailer, about five tents, a couple of locked bicycles and a chained dog (part pit, I think). This is not a well-groomed national park campsite, nor a tidy-but-busy KOA park; paper coffee cups, wet clothing and cigarette butts litter the ground, and the perimeter of the campsite is defined by trampled-down reeds. I wonder if the reeds double as expedient latrine.
"Come on in!" comes a return shout from the trailer.
I approach the trailer and find a wiry black man sitting in his underwear. He's aging, but by no means decrepit; while thin, he has a barrel chest, tattoos the hipster crowd would be proud to own and biceps that betray a lifetime of self-preservation. "Let me put on some pants," he says. "Have a seat." I sit on the edge of a bunk and take a look around. A couple of empty beer bottles double as ashtrays, and various fast food containers are stacked on whatever shelves can be found. An ancient radio sits on what once was a refrigerator. The bunks are little more than plywood, with rags serving as both mattresses and sheets.
"My name's Eddie Carvery," he says.
Carvery, who is 62 years old, grew up in Africville, the old African-Nova Scotian community that once sat on the shore of Bedford Basin. "This is Barrington Street," he says, referring to what I'd always thought of as just an unnamed utility road connecting Seaview Park to the nearby international shipping terminals. But of course he's right; it makes perfect sense that Barrington, the main road of Halifax, once followed the railroad tracks all the way along the harbour, and I later learn that the Carverys lived at 1833 Barrington Street, the exact spot of Carvery's present-day encampment.
The white power brokers of Halifax never gave Africville a break. They refused to annex the community into the city of Halifax proper, thereby avoiding the responsibility of extending water and sewage lines to it, or for the streets or electrical services. They did, however, place an infectious disease hospital, a prison and a dump in Africville, and laid the railroad tracks right through the heart of the community. Still, despite being neglected, by all accounts Africville was a tight-knit community, its 400 residents living in poverty of resources but in wealth of spirit.
All the same, Africville was destroyed in the 1960s in the name of "urban renewal," the residents' houses and their church bulldozed to make way, allegedly, for the McKay Bridge approaches. (But as far as I can tell, most of the site of the community sits north of the bridge, on open land now comprising the park.)
Forty some odd years later, Eddie Carvery is reclaiming his land. "I'm making a statement," he says when I ask why he's here. "I want a public inquiry. I'm not leaving until there's a public inquiry, so that people can find out about Africville."
Carvery isn't an educated man---he recalls how he and many of his black schoolmates were shuffled off to "auxiliary class," a de facto segregation of the nearby Mulgrave School. "I was in grade three for five years," he says. Still, as I talk to him it becomes apparent that he's no fool; Eddie Carvery knows how the world works, understands the machinery of racism. Three of his siblings were killed by racism, he explains---a 13-year-old brother who was run over by a truck on its way to the dump, and two other brothers who died from "pneumonia, you know, the elements---they knew exactly what they were doing when they put that dump here. They were taking bags full of disease from Camp Hill Hospital and dumping them there, completely open. We had wells."
Eddie speaks of the injustice of it all. "The people of Africville built Halifax," he says. "My forefathers built the churches. Do you think white people were hauling those stones up to the churches?" He takes a drag on a cigarette. "They knew," he says of white Halifax and the destruction of Africville. "Where are the churches at now? Where's Christianity?"
This isn't the first time Carvery has camped out here. He and one of his brothers were here in 1995, and city council responded by passing an ordinance against camping in city parks, lest the Carverys bring embarrassment to the city as it hosted the G7 Summit. Earlier this decade he tried again. "I was here three or four years," he says vaguely. "They told me I had hepatitis. So I went to the hospital. While I was there they took all my stuff." The camp was removed.
He's been back at his old house site since July 15, and has no intention of leaving. Carvery says that early in his protest a city official came and told him he needed a permit. "I told him to arrest me," he says. "I dared him." No one from the city has bothered him since. A handful of people camp with him from time to time, but it's clear he's the heart of the protest. "I'm the spokesman," he says.
What would it take to get him to leave?
"A couple of million bucks," he laughs. "Well, so long as I get a public inquiry," he says, more seriously. "What do I know about value? I've only got a grade three education. Let five judges decide about value. Five judges---so long as they're not from Nova Scotia." As Carvery sees it, a full public inquiry would serve to find and publicize the entire history of Africville---how it came to be settled in the first place, the injustices it suffered---and figure out just compensation for its former residents. "People have got to know the whole truth," he says.
Carvery has every intention of staying here as long as it takes, forever, if necessary. He's living entirely on donations. "Tell people to come by and talk, and to bring donations." He needs money, food and drink and companionship. He's a likeable fellow, and worth talking to.
***
After I talk with Eddie Cavery, I get back in my car and drive out to Hammond Plains in search of the grand prize for the QE2 Home Lottery---a house in the Voyageur Lakes subdivision, valued at exactly a million dollars, according to the lottery's web site. A house across and down the street, valued at $593,000, is second prize. (The million dollar house is on a lot that backs onto a lake.)
Voyageur Lakes is adjacent to the Kingswood subdivision, and basically mimics Kingswood's feel. Together, the two subdivisions consume about as much land as the entire Halifax peninsula, but with (I'm guessing) only about a thousand potential house sites. That's because each house sits on a huge lot---Kingswood's look to be about three acres per in some cases; Voyageur Lake's houses tend to be on smaller lots that are clustered, freeing up wide swaths of open space, but the effect is the same. Neither subdivision has sidewalks. There are no schools, no fire stations, no grocery stores, no drug stores, no professional offices, no medical clinics. On its web site, Voyageur Lakes claims that shops are within walking distance of houses, but I can find only a women's fitness centre and an outdoor goods store stuck in a tiny strip mall behind the company's sales office on Hammond Plains Road. I suppose you could walk there---you can walk anywhere on Earth, if you're determined---but in practical terms, pretty much everyone will drive there. For everything else---basic shopping needs, employment, school, etc.---residents will drive great distances every day, probably as far as Halifax, 30 kilometres each direction.
In other words, the grand prize for the hospital lottery is an environmental disaster, in and of itself. The lottery's web site does say that the house comes with carbon offsets purchased by the hospital foundation, but as I've written before, carbon offsets are almost always a load of bullshit, and in any event, the foundation does not say what is being offset---even if they are able to offset the carbon emissions used in construction and the loss of a carbon sink by the clearing of forest land for the house (highly unlikely), there's no way to estimate, much less offset, the greenhouse gas emissions that will result from simply living in the house. How would they even begin the calculation? They'd have to know the length of each resident's commute to work, school, shopping, the gas mileage of their vehicles, the amount of electricity the house uses each month, the number of times the landscaping service stops by and what sort of equipment it uses, etc.
As if to underscore the point, when I arrive at the house, I find all the exterior lights are lit---in full daylight.
Whatever the environmental cost of living in the QE2 house, it's millions of times that of Eddie Carvery's littered campsite.
I don't mean to rag on the hospital. The aim of the lottery---to raise money for cancer surgery equipment---is worthy, and we ought to be paying for this stuff out of tax dollars.
Still, consider how this works. Lottery tickets cost $100 each---enough to run Carvery's operation for a month, probably. The prizes---which included two houses, several cars, about a dozen trips to various parts of the globe and assorted electronic gadgets-- are collectively worth many tens of millions of dollars, plenty enough to pay for a full inquiry into the Africville situation, and to pay for reparations. The lottery prizes are environmental disasters; Carvery's camp is untidy, but in the scheme of things harmless to anyone besides Carvery himself. Carvery gets hounded by cops, ignored by everyone else; the lottery gets free TV ads, and all the finest people trip over themselves buying tickets for the cause.
As I drive back from Hammond Plains I recall shaking Carvery's hand as I leave his protest site.
"Tell them I'm angry," he says.