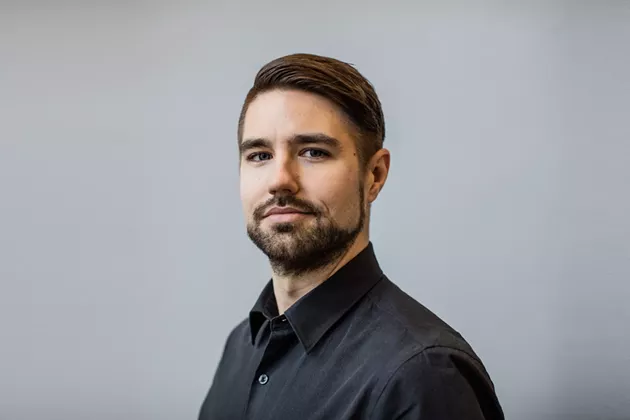 The Coast sent all 53 candidates running in HRM's municipal election the same 15-question survey in order to help their residents and our readers know a little more about who's running for council. Here's what Brenden Sommerhalder from Halifax Peninsula North sent back.

———
Why should residents of your district vote for you?

For years I've been pushing for progressive municipal policy and good governance in Halifax in my job, writing and volunteering. Good policy and good governance are how we will grow into a fairer, greener, more awesome city and I'm asking for my neighbours' votes so together we can turn ideas into action at City Hall.
What's something you wish people were talking about more this election?

The province's inaction on municipal issues. Many of the things most important to our city require partnership with the province (like development, affordable housing, transportation), but the province has been a lousy partner.
What's the last thing you Googled?

I use Bing. Just kidding. The last thing I Googled was a series of walking distances on Google Maps to make a point about food security in our district (where I live near Devonshire Arena, it's a 20-minute walk to the nearest grocery store. Try that with groceries and a kid in tow, a few times a week if you don't have a car).
What's the most accurate criticism someone's made about you?

I talk too loud for some settings, sometimes. I get excited!
What was the first concert you ever went to?

It was an outdoor music festival, I think the first band I saw was The Headstones.
What was the last movie you didn't finish?

Most of them. I almost always fall asleep part way through if I watch them at home. So let's say, Interstellar. I think I was enjoying it though. (Never choose me for your pop culture trivia team)
What pisses you off?

Cars driving way too fast in pedestrianized and residential areas piss me off. Cool your jets, people.
What's changed the most in your district since 2012?

The focus on development. Increasingly, people are starting to realize that if we want our neighbourhoods to grow in a sustainable and equitable way that respects the character of existing communities, we need to push for it.
What's a specific moment in politics or your professional life that you really regret?

I once went to a job interview in jeans, and I really shouldn't have gone to that job interview in jeans.
What's the last thing that made you really laugh?

I do a lot of laughing, but the last thing that made me really laugh was an Atlantic Fringe Fest show: "SwordPlay," by Sex T-Rex.
What's your go-to meal when cooking?

Veggie stir fry, or tossing something from Getaway Farm onto the barbecue. Quick, nutritious, delicious!
What worries you the most about the Halifax Regional Municipality and the issues it's facing?

Housing affordability. There are many pressing issues in our community, but when people are worried that they won't be able to afford to live in their neighbourhood (or be able to afford housing at all), it's a critical problem. No one should have to deal with the possibility of having no home or being pushed out.
How would you describe your opponents in this race?

Really awesome folks. It's been a pleasure running alongside a group of community leaders.
What's something you don't know, but want to learn?

Programming, writing code. I think that having the technical skill of programming can open the doors all kinds of exciting uses for technology, and just having an understanding of how to code can help to realize where some of these opportunities exist.
What do you promise NOT to do if elected?

I promise not to become hard to reach. Councillor is a busy job, but if elected I know it'll be an expectation of my constituents to be approachable and accessible.