"Good things are coming our way," sang Walter Schreifels (Gorilla Biscuits, Rival Schools) last night. He wasn't lying, but more on him in a future post.
I'm writing today from the patio of a Queen street coffee shop at the beginning of day three. My hair's quietly forming into gross dread-y clumps, I'm covered in cat hair from couch surfing and my shirt still smells like stale booze. I'm not quite Alison Lang at Bonnaroo, but after two long, long nights, we're getting there.
So it begins. After picking up my press lanyard, I scoop up scrappy, talented local photographer Marianne Madeline Lau, whose work usually appears with Basics. Now, if any of these photos end up looking like Last Night's Party, we have her to thank. And beyond her photos, she's the human equivalent of a clown wig — she makes any situation 10 times more hilarious. It's a good fit, I think.
Upon hearing that Meligrove Band at CN Tower is packed to the, ahem, nichons, we decide to up the punx by heading to the Juicebox and Underground Operations showcase at Queen West's Bovine Sex Club. And, as it turns out, the place is perfect for all things punxuppery: they've got cheap cans of PBR. It's a space that, with roughly 15 people, feels full. The bathroom's straight out of Trainspotting.
Marianne Madeline Lau
Wayfarer @ The Bovine Sex Club
First up was Kitchener, ON's Wayfarer. There's something entirely commendable about a group of twentysomething understudies paying tribute to their heroes (and we're guessing that their name is a nod to a Hot Water Music cut rather than Tom Cruise in Risky Business). The slight roots inflection, the mid-tempo jangle-punk, the tri-blend of gruff vocalists — this was No Idea minus the beards. This ain't life-altering stuff, but it was perfectly competent.
Marianne Madeline Lau
Cavaliers with Chris Cresswell @ Bovine Sex Club
Marianne Madeline Lau
Cavaliers @ Bovine Sex Club
Next were Toronto locals Cavaliers. My NXNE guide compared them to Ryan Adams, and I get their point: this is urbane country, and really, a Waylon or Merle comparison wouldn't fit. And they're good: honey-smooth co-singers Mich Verrier and Britton Allison are pitch-perfect, rarely taking a break from harmonizing.
While the band's primarily acoustic, their rhythm section reminds you why they're playing a punk show: hard-hitting drummer Reed Neagle ensures the pace is upbeat, while bassist Adam Pariselli gets his pogo on. Top it off with a guest appearance by the Flatliners' Chris Cresswell and a Chuck Ragan (of… you guessed it, Hot Water Music) cover, and I'm leaving pleasantly surprised.
We're quickly discovering that Toronto, apparently, loves Hot Water Music.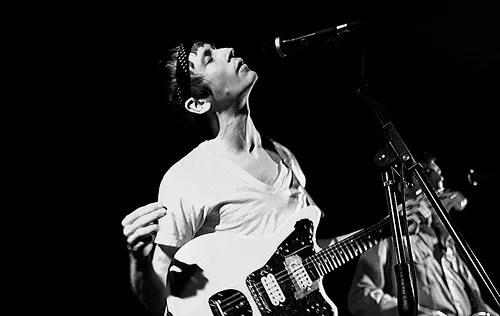 Marianne Madeline Lau
The Grass @ The Garrison
But we've had our fill of cheap Pabst, and instead elect to head over to The Garrison to catch Dartmouth's The Grass. I'll be honest, here: I never paid 'em much attention in Halifax, and I'm feeling pretty stupid right now.
Despite being on the tail end of a residency tour taking them across Ontario and Quebec, the foursome were greeted by folded arms, a half-empty venue and a 10-foot buffer in front of the stage. It was typical Toronto hostility (and I'm allowed to say that. I grew up here).
Not the best of circumstances, but they did as any good hockey player would: they kept their heads down, worked hard, gave it 110%. And that's just not reviewer-ese; let this sweat-drenched image, taken after their set, do the talking.
Marianne Madeline Lau
The Grass @ The Garrison
Luckily for them, Toronto's a town that reveres Ian Blurton; the crowd's quickly won over by their loud, loud and louder brand of Detroit-inflected blues. By the end of their set, they've got their fair share of photographers and showgoers pressing up against the stage. And us? We're sold.
"They were so fucking amazing, I want to fucking kill someone," Marianne raved to me after their set. "Boys with Fenders. There's something about boys with Fenders."
And they know how to use 'em. Here's proof, taken from an end-of-set jam:

We head over next to The Dakota — a country bar home to a lethal house beer that's not unlike Horse Power on PCP — and, that's where I'm going to mercy kill the night. Either that, or I don't really remember the rest.
Good things are coming, indeed.