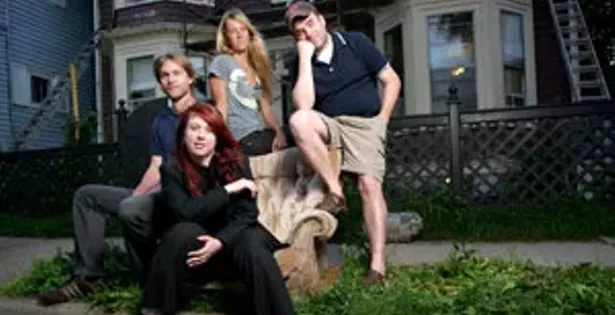 The air in Theatre Nova Scotia's Agricola Street space is stuffy, which is what happens when people are staging faux swordfights between its modest walls for hours. Eva Madden, the director of Atlantic Fringe Festival entry The Confidence Game, instructs actors Joe McKibbon and Terry Coolen as Tobin and Roger. "The struggle that's going on is youth versus age," Madden tells Coolen. "He's sexually conquering this woman, and you're alone. You're the voice of wisdom that says, 'If you keep this up, you could be me.'"
There are no swords for the fight, which is both physical and metaphorical, but actor Steven Wendland makes a quick sweep of the back room and comes up with an umbrella and a mop. Coolen rejects the mop based on odour, preferring to mime his parries.
"Obviously you don't have swords," Madden says from her perch atop a desk against the north wall, "but what you can try is getting in each other's faces." She uncrosses her legs and jumps down to join them. "If he volleys at you"---she advances on McKibbon---"you back off."
The scene comes near the end of The Confidence Game, which Madden describes as "a minimalist play about complicated people," chiefly a pair of friends who are actors competing for roles, and, in Tobin's mind, girls. The play, whose cast also includes Andria Wilson and Madden's Eastern Shore star Beth Amiro, had its origins on stage but more recently became a television script, which is the document Madden is working from.
"I thought about going back and reading it, but it was quite different," she says of the original text, which became a half-hour script for the Atlantic Film Festival's Inspired Scripts program in 2003. "In the original play script they were theatre actors, and it was two guys travelling back and forth to this performance and there was a lot of direct audience address. I liked the new tempo of it being a television script---it was faster, it was punchier, it was funnier. I decided to stick with what it was and change the staging and how we transitioned between scenes. That's what I've found is the biggest thing---when you're writing film scripts, transitions are really important, and how you jump back and forth in time and space. In theatre it tends to be a bit more linear, so it's been a challenge to make it a continuous narrative."
Madden works primarily in film, keeping a day job at PowerPost while working on her own shorts (Eastern Shore screened at the latest AFF and ViewFinders) and features (Sweet Nothing was one of the winners of the Inspired Script program in 2006; Madden and her fiance, Drew Hagen, have been working on an Amelia Curran documentary for years). The Confidence Game is the first piece of theatre she's directed "for public consumption" and was inspired by a trip to the Nickel Film Festival back home in Newfoundland, where she participated in a program in which she had mere hours to get a play on its feet.
"We got the script the night before and you had two hours to rehearse and you had to put on a play," she says. "And we got a hell of a lot done in two hours, and I was so thrilled with the experience of working with actors in that intense way, so I thought I should do a fringe play---if we can do this in two hours, imagine what we can do in a couple of weeks."
While she relishes the rehearsal time a play can offer---"You can allow the actor to play around with their motivation and their intent and you can find these really cool things in the text and in the staging that you wouldn't expect"---Madden wouldn't mind a film set's crew, considering The Confidence Game's consists of one. The Fringe gives her a tech person for lights and audio, and she'll fill in the remaining gaps.
"To be honest, there's a couple of people that are supposed to be on stage, but they don't have lines---there's a clerk in the pizza parlour and a person in the audition room," she says. "That's probably gonna be me."
The Confidence Game is at the Atlantic Fringe Festival Friday, August 29, 8:30pm; Saturday, August 30, 3:45pm and Sunday, August 31, 7pm at Neptune Studio, 1593 Argyle, $5.