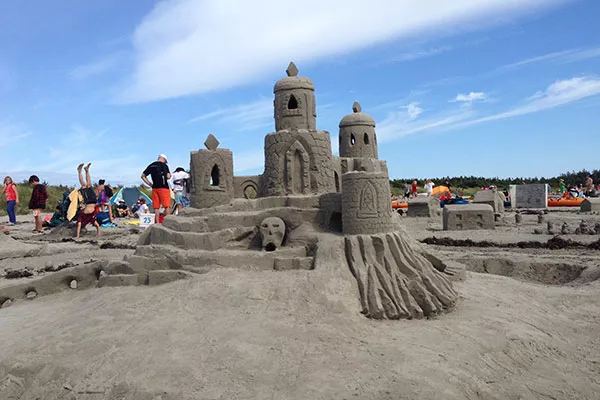 Clam Harbour Sandcastle Competition
Clam Harbour Beach, 158 Beach Road
Sunday, August 12
9am-6pm
I
t all started with $200 and a beach. Charlotte Wilson-Hammond had heard of the sandcastle competitions in California that drew huge crowds as artists sculpted sand into shapes of all kinds, and was sure that a similar event at the strip of shoreline in her neighbourhood—Clam Harbour Beach—could have the same effect.
"Our beach is so fabulous, I conceived an event called a sandcastle and sculpture contest—it was always 'and sculpture,'" she says, speaking by phone as, appropriately, she drives to the beach. "We had a category called non-objective sculpture, and that was abstract." She stresses the importance of this, that it was about real sculpture happening in real time as families bore witness.
This Sunday, the Clam Harbour Beach Sandcastle Competition celebrates its 40th year of pail-filling fun, and though the city's taken over the event and "sand sculpture" has been dropped from the name, Wilson-Hammond is as sure as ever that the heart of the contest is taking art out of the gallery and into the world. "It's become such a larger community event that everyone can come to. For some reason, the water is always warm on that day. Everyone just has fun. You see these little, tiny kids build an entry and then these groups of 20 people who arrive first thing in the morning and have maybe come the night before and stockpiled sand—though they're really not supposed to do that," she adds. "People form teams and do it year after year."
Ardelle Giza is one of those who
makes
an annual pilgrimage to Clam Harbour's shores (though she doesn't assemble sand early). After over 15 years of participating in the competition, her sand-sculpting routine is well-worn, her tools chosen with experience. She leads a team of five that routinely places in the top three.
"We use a bottomless bucket and a spray bottle filled with hot, fresh water," she says. The bottomless bucket helps kick-start structure building while the spray bottle allows the sand to stay malleable. "It keeps the moisture in the sand because when the sand dries out you lose your details and things begin to collapse."
Arriving early is key (fresh sand works best) and researching the tide times "can help so you're not busy working as the water creeps in and you have to build a wall to keep the water back from what you should be building."
Giza assembles her team—which is her brother, her niece, her niece's boyfriend and her spouse—for supper weeks before the event to share a rough sketch of the sculpture.
"One year, when one of the
Spider-Man
movies came out, we decided to go with Spider-Man crawling on a web. My brother managed to find sun-bleached clam shells that we used for the eyes and then we braided some seaweed together and we had
Spider Man
spinning a web to our number sign," she recalls.
Giza and her brother first discovered the contest in 1989, working on a couple of small sculptures just for fun."We didn't really join forces until 2000, when we placed third with a chess game sculpture. Now, it's a standing date for everybody," she adds. A NSCAD graduate, Giza agrees with Wilson-Hammond's sentiment of the event being about art in the everyday. "It's accessible. Everyone can make something out of sand. Maybe not everyone feels they can make an elaborate painting but everybody can take part in this."
Back on the phone with Wilson-Hammond, the beach is drawing nearer and she has to wrap up the call.
"I think in Clam Harbour it's increased the various restaurants' and stores' business by a month with the influx of people. It's what one artist can do with a little bit of money, and the spin-off that can have for the community."