The white wine was flowing as hundreds of artists, politicians, men in suits and other well-wishers crowded into a large tent, in the courtyard of the Art Gallery of Nova Scotia last night for the Sobey Art Award reception. Hosted by Seamus O'Regan, wearing his arty face, and Laura Regan (which had Mad Men fans flipping out, trying to figure out who she is on the show—she plays Harry Crane's wife), there was a moment of horror in the crowd, when all five shortlisted nominees (Luanne Martineau, Marcel Dzama, Shary Boyle, David Altmejd and Graeme Patterson) were called up on stage. "Oh no," someone loudly whispered, "This isn't going to be like America's Next Top Artist." Luckily, no one was called out for their lack of smizing, as there was a 30-minute break before the winner would be announced.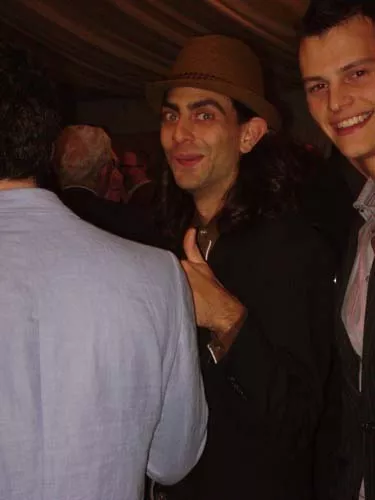 Nominee Graeme Patterson pretending like nothing's going on.
At the entrance of the tent you could pick up a button with each of the five nominee's names on it. Hometown favourite Graeme Patterson showed up on a lot of lapels.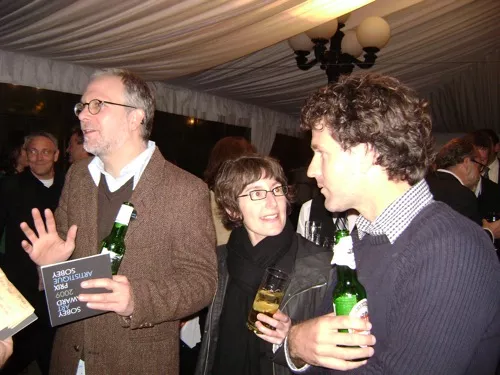 Atlantic longlisted Sobey artist Mat Reichertz (who organized an "atlantic losers photo,") artists Sym Corrigan and Ryan Suter thinking about starting a betting pool.
The debates in the crowd were lively, to say the least, and not unlike the ones I hear over the Polaris Prize, .e.g judging criteria, personal biases, the spectacle of it all, etc. Someone suggested that it would be great to have a senior or a former winning artist on the panel along with the curators, which is interesting. Some questioned whether David Altmejd, who won the prize (it really surprised me that people were so surprised—should have started that betting pool!), needed the money, after selling a piece to the AGO for a large sum and because the 35-year-old artist received a lot of attention representing Canada at the Venice Biennale.
But the award isn't about financial need—really it's supposed to be about the artist's body of work.
Artist Eleanor King and Sobey winner David Altmejd
David Altmejd, who told me he spent a quiet afternoon after a nominees lunch at Ryan Duffy's (note: if you ever want to learn how to properly crack a lobster, sit with a Sobey) playing video games on his iPhone, seemed pretty chill and very gracious over his win.
And then it was off to the after-party...