click to enlarge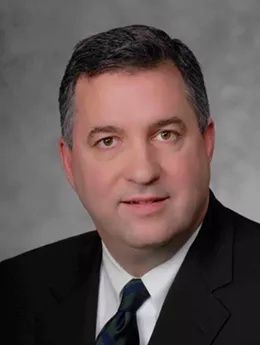 After a four-hour closed-door meeting, Halifax council Tuesday voted unanimously to hire Richard Butts as the city's new chief administrative officer. Butts is presently a deputy city manager in Toronto. He will start work in Halifax City Hall March 28. Breaking with past practice of contracting for the job with former CAOs Dan English and George McLellan, Butts will be a direct employee of the city; he starts at an annual salary of $285,000, increased to $300,000 after one year. Should Butts quit on his own accord or be fired "with cause," he will receive no severance package, but should he be fired "without cause" he will receive 18 months' pay, says mayor Peter Kelly.
Butts started his career in garbage management, working for first Laidlaw Waste Systems and then as a VP at Waste Management. In 1998 he was hired by the city of Toronto and worked first to develop a contract to haul garbage to Michigan, and then later to site a new landfill in Ontario. He moved quickly up the city bureaucracy, and by 2007 was one of three deputy city managers.
The announcement that Butts has been hired in Halifax came just one day after one of the other three deputy city managers also left city employment. Speculation in Toronto media is that there is a mass exodus of senior bureaucrats in reaction to the recent election of mayor Rob Ford, who is making deep cuts in the city budget. But Butts says Ford played no role in his move to Halifax.
"I've worked with mayor Ford for 10 years now and always had a terrific relationship with him," Butts tells The Coast. "I anticipated that would continue. This [Halifax] opportunity came up in the fall before the mayor was even the mayor---I began to pursue it then, because I had been thinking about an opportunity to help lead a city, and sometimes you don't get to choose when opportunity knocks. I'm at the right age, and Halifax is the right city. But factually, this started before mayor Ford was even mayor Ford."
The 52-year-old Butts says he anticipates being Halifax's top bureaucrat "for quite a while."
ENVAC garbage system
There are two major controversies associated with Butts' career, both involving development of land in Toronto's Don Valley. The first was a 2008 proposal to install a cutting-edge vacuum garbage collection system in the West Don Lands precinct. Such systems, now used in Scandinavia, are said to increase garbage diversion rates by better separating organics and recyclables, and to decrease greenhouse gas emissions related to garbage collection because far fewer trucks are needed on the streets. The Swedish firm ENVAC had hoped to set up a pilot project in Toronto to begin cracking the North American market. Butts, however, recommended that the city not participate in the project, effectively killing it.
"City staff prefers not to own and operate a vacuum waste system as this would be inconsistent with our current practise whereby all waste management equipment and systems at multi-unit buildings are privately owned and maintained," wrote Butts in his recommendation.
But a source familiar with the issue, who asked not to be named because he still has to deal with Toronto's city bureaucracy, has a less charitable spin on the situation. "Richard Butts stopped it because he didn't want to deal with the issue of retraining the garbage truck drivers and the labour issues that that would raise."
After Toronto passed on the deal, the city of Montreal jumped at the opportunity to install the system, which will begin operating next year.
Port Land Arena
The second and more publicized controversy in Butts' Toronto career involved the development of the Lower Don Lands. A Waterfront Design Review Panel wanted the area to be densely developed with a mixed-use neighbourhood centered around transit.
But, under Butts' guidance, the city wanted to place the proposed Port Land Arena at the site. The cheapest and simplest way to build the arena was to take a typical suburban four-pad arena design, a one-storey building with an adjacent expansive 450-car surface parking lot, and plop it onto the property.
The design panel wasn't necessarily opposed to an arena, but wanted it to conform to the dense character of the proposed development---that is, they wanted the arena built on four levels and without the parking lot.
"It was clear from the onset that [the design panel's preference] would be more expensive than the traditional suburban model," says Butts. "It came up to twice the price---a four-pad rink costs in the range of $40 to $50 million; this one was in the range of $80-$90 million."
As for parking, "hockey is a commuter sport, it's not a transit sport," says Butts.
As the controversy unfolded, world renowned architect Ken Greenberg, who was on the design panel, abruptly quit his position in protest, because "the sports proposal would essentially render the [Lower Don] plan useless," wrote Toronto Star columnist Christopher Hume.
The Port Lands Arena project now sits in limbo, as Toronto city council weighs whether to build it at all.
The suburban-model arena gutted the dense neighbourhood design, agrees The Coast's source. "They were going to sacrifice 16 acres of extremely valuable land, several million square feet of development on the waterfront, and a project that has been cited as one of the 16 leading climate change projects in the world---none of which [Butts] cared about. And the economics are the land values they were sacrificing were much greater than the capital costs [of the more expensive arena design]."
HRM By Design
The Port Land Arena controversy raises the question: How supportive will Butts be for Halifax's downtown planning initiative, HRM By Design, which like the Lower Don Lands plan hopes to build a dense, mixed-use, transit-oriented downtown?
"I've read about HRM By Design, but I don't know much about the details," says Butts. "I don't think it's fair for me to comment on things about Halifax with only half information. I'm really excited to get down there and learn a lot more and hopefully bring some value to those discussions, but I really don't feel comfortable talking about it."
Butts will, however, reside in a downtown apartment.
"What'd I'd be watching out for with Butts," says the person familiar with Butts' career in Toronto, "is that he seems to be someone who just wasn't into innovation, sustainability, creativity---it was very much business as usual, bottom line, limited thinking."