She was born Barbara-ann Rolfe in Pictou. For the past 49 years, that's one of the only things Dartmouth resident Linda Emberley knew about her birth family. This changed on December 23.
She now knows her parents' age when she was born, where they were from, eye and hair colours and that she has half-siblings, among other things. It should have been a celebratory experience for Emberley, who's often felt isolated from her past, but it wasn't.
"While I was absolutely ecstatic, I was furious at the same time," she says.
The details of her past came from a non-identifying information package that the provincial adoption services department gave to her daughter, Natalie Maclean-Visser. Maclean-Visser, who was also given up for adoption, recently reconnected with Emberley through an adoption caseworker.
But the information released seemed too personal.
"I read it and was like, 'Is this about me?'" says Emberley. "The non-identifying information should have been, 'She was tiny; she had sandy brown hair.' Not that I was in the foster care system."
After learning the province had skipped a generation, effectively, and released to her daughter information Emberley had long sought about her birth parents, she asked Nova Scotia's Department of Community Services for her own copy. And was told she had to wait.
"I've had some form of government control in my life from day one until now," Emberley says. "Especially now, where adoption disclosure services said it can take up to two years for me to get anything."
Currently, Nova Scotia's Adoption Act states adoptees over the age of 19 can apply for certain information about a birth parent—including basic physical description, medical information, interests and education levels— without the consent of the other party. That is called non-identifying information because it's deliberately generic. Identifying information, on the other hand, is specific: a person's birth name, the names of their birth parents, where other adoptive siblings are and their birth or adoptive names. This is usually only given out with the consent of the person being identified.
When it comes to applications for information, people under the age of 19 need an adoptive parent's consent to apply. Birth siblings—with the birth parents' permission—and birth parents themselves can also apply.
It's a lengthy bureaucratic process to uncover even the tiniest scraps of someone's personal history. Many adoptees in Nova Scotia have advocated for decades to unseal the province's adoption records, simplifying the process like the rest of Canada has already done. The province has always ignored those calls, arguing the current system is designed to protect the privacy of all parties.
But Emberley's case exposes a loophole in the system. The information about her own parents was something she didn't think her daughter would have been given. As an adoptee who doesn't know her own birth family, she felt lost.
"It was kind of like my joy was robbed from me," she says.
In response, Emberley asked an adoption services caseworker and was told it "technically" wasn't an "invasion of privacy" because Emberley didn't apply for her non-identifying information before it was released to her daughter.
"It's the worst technicality I've heard of," says Emberley, who was in contact with a caseworker when they were connecting her with her daughter. The caseworker didn't mention the information was there and that she had to apply for it first.
In a follow-up email, community services
says
it can't comment on a specific case, but restated what is considered non-identifying and identifying information.
"If an adoptee or birth parent wishes to obtain identifying information, the department must receive informed consent from the other party before they can provide that information."
Currently, Nova Scotia is the only province in Canada with sealed adoption records. (The second last, Prince Edward Island, announced back in November it would be opening its records this year.) According to Origins Canada, a support service for adoptees, Nunavut and the Northwest Territories also still have closed records.
"Other provinces have attempted to inform potentially affected parties that their identifying information will be shared, and those parties are then able to request that their identifying information not be shared by filing a non-disclosure veto," says the Department of Community Services in an email. "Nova Scotia has taken the approach of searching for the affected party and requesting consent to share identifying information."
In an emailed statement, community services minister Kelly Regan recognized how important the issue is for adoptees, but says it's a matter of confidentiality.
"It's understandable that Nova Scotians would want to know about their birth relatives," she says. "In Nova Scotia, the Adoption Information Act takes a balanced approach to disclosures and the department provides services to adoptees, birth parents, other birth family members, as well as adoptive parents. It is important to respect the right to privacy for both the birth parents and the adoptee when providing or sharing identifying information."
Mary Craig, manager of adoption services with the community services department, says calling the records "sealed" isn't the proper way to describe them.
"I would suggest the records are not sealed, in that people don't have access to that information. If consent is provided, we're able to provide identifying information and facilitate contact," says Craig. "If consent is not given, then we do encourage either party to provide updated information...We try to get as much information as possible if they aren't consenting to
sharing
their identifying information."
There isn't a set timeline on when records are released to the person requesting them, says Craig. There have been priority cases, but those are usually due to something like a person's age.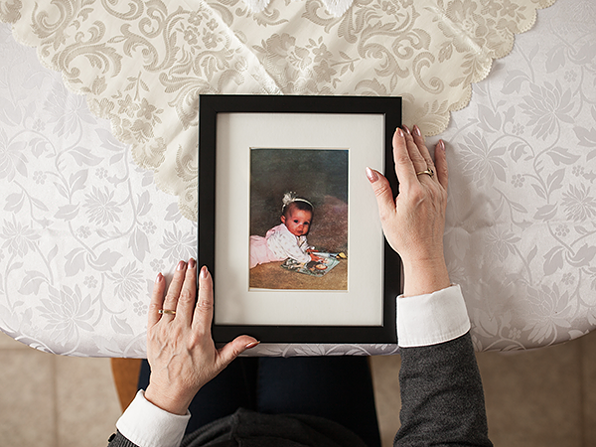 Mike Slayter, an adoptee, has been advocating for open records in Nova Scotia for over 20 years. He was even part of a government committee that made recommendations to the provincial government in 1994.
"I just don't get it," he says of Nova Scotia's policy. "Adoption was never meant to be secret—it was simply supposed to be an exchange of guardianship."
Slayter says adoptees have a specific set of needs that need to be addressed and haven't been: "One is to unlock the past so we can get over this thing called genealogical or identity bewilderment, which a lot of adoptees feel because they don't fee attached to a family."
Issues regarding adoption connect to a perception of "truths," he adds.
"A lot of it reflects back to our natural mothers who were given a really rotten hand in all of this," says Slayter. "Society had judged them and labelled them and called them terrible names...Adoptees don't know their natural mothers' stories."
When Emberley became pregnant at 19 in the 1980s, she wasn't supported by her community. Even now, it's difficult for her to find the words to describe how that treatment felt.
"Being in foster care, while being an unwed mother, was very sad," she says, simply. When it came to the decision about whether to keep her daughter or not, Emberley says it was a difficult one.
"There were mixed emotions. I wanted her to have a better life, which obviously she did, but no [I didn't want to give her up]," she says, her voice thick with emotion.
"What makes me happy is she did have a wonderful home, wonderful family that loved her and could give her everything I couldn't."
Emberley isn't the only one who's had problems with adoption services.
Heather Hadley was adopted in Nova Scotia in the 1960s. When she was in her twenties, she received a letter saying social services had found her twin sisters, who had also been adopted. During this back and forth, one of the sisters told social services she was coming to Halifax and wanted to meet Hadley.
Since this was before email and cell phones, a message was left on Hadley's answering machine on a Friday. She didn't get the message until that evening—after the office had closed.
With her sister only in Halifax for the weekend, Hadley called around to hotels, trying to find any information she could but wasn't successful. Eventually, through the efforts of adoption services staff, the siblings were able to connect over the phone. But the opportunity to meet never came up again before one twin passed away.
"I was so angry about it," says Hadley. "Who knows how life would have turned out, had the information been available."
When asked about the situation with her biological mother's records, Maclean-Visser questions the system, not the workers.
"Social workers are unsung heroes for the most part," she says, via email. "I know how emotionally attached and drained they can get, and I can't imagine how hard that job is at times. It's also not their fault they have to follow provincial and federal existing laws."
According to the department, there are currently three people working in adoption services: two caseworkers and a supervisor.
Maclean-Visser says the process needs to be revisited, especially when errors like what happened with her birth mother's information can impact a person's life.
"The fact that lines get crossed, but it's supposed to be this vault of personal, sealed information, seems like the system is broken and has been broken for a very long time," she says.
Maclean-Visser started her search in 2013 and found the system could be frustrating at times. She has concerns with how the province found her birth mother, and she questions the legitimacy of the search, why it took so long and why the process isn't fully explained to those searching.
She also doesn't like that adoption services reached out to a family member to find Emberley, even though Maclean-Visser didn't consent to that method.
"It's dealing with miscommunication, if any communication at all, years of impatiently waiting, all the while wondering if you're crazy for putting yourself, and your supportive and loving family, through emotional turmoil."
"Emotional" is a word Emberley also uses to describe the situation. If adoption records were open, she wouldn't be in the "emotional limbo" she's currently in.
While Emberley understands there is a process, she wants what she feels she rightly deserves. She wants her life story.
"I don't care if it's in order, just give it to me," she says. "I lived it. I know it happened."
For now, Emberley is doing what she can. She's applied for her non-identifying information and has sent away to a DNA testing service. She also says she will continue to fight for open records.
"Essentially, my life is being held hostage," she says. "[Adoptees] are not allowed to know our life stories. Everybody in the world has a life story, except for the adoptee—especially in Nova Scotia."
Katie Ingram is a freelance journalist and author based in Halifax.