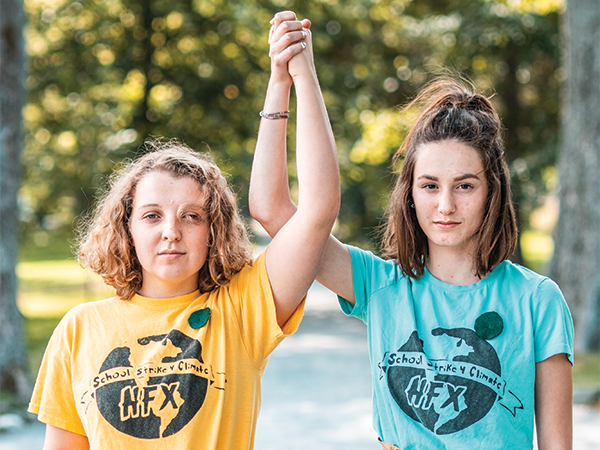 On a Friday afternoon in February, 17-year-old Citadel High School students Willa Fisher and Julia Sampson stood among the 300 hundred youth they'd organized chanting for Halifax's first Fridays for Future student strike.
Now, with three strikes under their belts and the support of a community of resources, Fisher and Sampson are organizing their most intensive project to date.
The K'jipuktuk-Halifax Week of Climate Action is a peaceful rebellion that invites all members of the Mi'kmaq and Halifax community to participate in various events throughout the city from September 20 to 27.
In collaboration with The Extinction Rebellion, Climate Strike Canada and several local and provincial organizations, Fisher and Sampson have been organizing with Halifax Youth for Climate Action in solidarity with the city's School Strike for Climate.
"It's an amazing community of organizers. I know that anytime I need help, there will be someone there to help me," Sampson says.
The timing of the nation-wide climate justice campaign coincides with the UN Climate Action Summit on the 23rd and is even more fitting given the upcoming federal election. "We want to send a message to everyone who can vote to vote for climate," says Fisher.
"The Week of Action helps to reach out to the rest of the community. It goes from a bunch of students walking out of school to building community with the rest of the population who want climate justice," she adds.
The Youth National Die-In on September 20 is one of Fisher and Sampson's organized events. It's a non-violent protest practice where protesters lie down on the ground, typically in a public space, in order to disrupt business-as-usual and draw attention to a cause.
"It represents the death caused by climate change and the death that will be caused by climate change. It's been used in a lot of social movements before, like the AIDS crisis," Sampson says. "It's about the coverage of it. We want people to notice us and notice our cause."
Climate justice is tireless and often thankless work. One of the largest obstacles young climate organizers confront regularly is climate anxiety: an experience defined by emotions ranging from frustration and panic to hopelessness.
Fisher and Sampson combat climate anxiety in a number of ways, including weekly wellness phone calls with Climate Strike Canada where members share experiences and ideas, vent and offer one another support.
The night before a protest Sampson gears up by listening to young climate catalyst Greta Thunberg's TED Talk while Fisher looks to the strides being made in Europe to fuel her fire. "It gives me hope that if they can change actual governmental decisions, then I think we really have a chance to as well."
Fisher and Sampson want to encourage youth to use their power by joining the Fridays for Future student strikes. For adults, on the other hand, Sampson has a different message.
"Don't just support the youth," says Sampson, "we want adults to do something themselves. They have more power than youth in our community and government. Use that power to everyone's advantage."
Their message for adults comes from the impact their passion for climate justice has had closer to home.
"My family have always been climate activists at heart, but we've never done anything like this before. Now, the whole family is in on it," Fisher says.
Sampson's mother, an elementary school teacher, has expressed excitement in introducing elements of climate justice to her students this year. While Sampson's father, a former Nova Scotia Power employee, has turned his interest towards exploring sustainable options of securing renewable energy.
The week culminates with a general strike and march on September 27, leaving from Victoria Park at 11am.
"We are here and we are able to organize. We have the power to make a difference, and if you don't starting listening to us we are going to be striking a lot more," Fisher says.