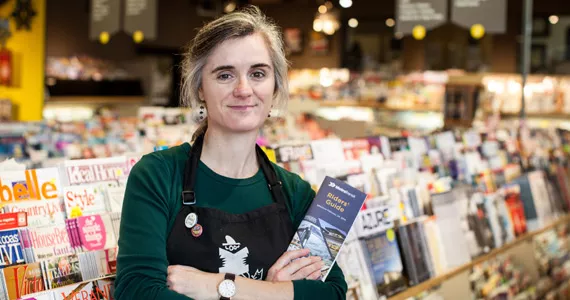 Public retailers want to make money for the city by selling bus tickets, but HRM keeps telling them "no."
Michele Gerard has been trying to stock Halifax Transit tickets at her store for four years now. The owner of Morris Street's Atlantic News says she calls the city every year, hoping they've changed their minds and will finally say yes.
"We literally have people that walk in every day and ask if we have bus tickets," Gerard says. "My business is trying to serve my customers, and it doesn't help my customers."
Those perforated orange papers are as good as gold for bus riders. Always the right change, and they last forever. But buying a sheet of tickets is harder than it needs to be. Halifax Transit's reliance on a fixed distributor list means there's no room for smaller businesses to sell tickets—leaving riders with fewer options to get on the bus.
Right now, Halifax has 50 retail outlets licensed to sell transit tickets. Most of those are drugstores like Lawtons and Shoppers, as well as Sobeys, Superstore and various lotto booths. They're all key locations with a high amount of people traffic, which make them attractive as retail partners. The contracts for existing outlets are open-ended, though the city monitors sales. If sales start consistently falling short, HRM can look at taking away the partner's contract.
Proposals for new outlets are supposed to be reviewed on a case-by-case basis by the department of finance, but that doesn't happen anymore. Spokesperson Tiffany Chase says Halifax isn't looking to add any new sellers right now, due to the transit system's incoming electronic management system.
"That's going to change the way the fare system is distributed," says Chase. Details are still sketchy, but the new system will potentially feature electronic readers and re-loadable fare cards. It's unclear if that will mean paper bus tickets become extinct. Either way, those improvements are two years away—provided there's no delays.
Gerard has been hearing promises about those fare upgrades since 2012, but still no concrete details are in place. In the meantime, Atlantic News and HRM are missing out on sales.
"All you hear from the city over the last number of years is active transportation," Gerard says. "I don't think the city has been conducive. There's a divide there."
There may be another reason HRM's reluctant to take on new retail partners. Back in 2013, Halifax wrote off $80,000 in owed bus ticket sales after Nic Nax convenience went out of business [As a reader pointed out, Nic Nax was founded by future-councillor Darren Fisher and his brother, and operated by Dale Fisher up to its end]. That's bound to produce some trust issues.
Gerard says she understands why the city would be gun-shy to pass out tickets to new outlets, but she's concerned stable business owners are paying for the city's lack of oversight.
"You mismanaged it and kept giving," she says of the Nic Nax fiasco, noting Atlantic News has been in business for a reliable 41 years. One solution could be asking retailers to pre-pay for tickets, instead of the 30-day window partners currently have to deliver payment to the city.
In any case, more outlets means more options for riders to get on the bus. Even if that's just in the short-term, it's win-win for the city. "My argument has been, and will continue to be, if you want people to ride the bus you need to make it convenient for the rider—not Metro Transit," says Gerard.