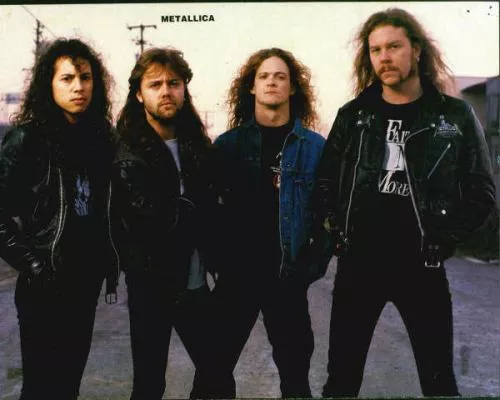 Blades of glory: Metallica gives medal a new name.
I can't wait for the moratorium on Nikki Yanofsky's "I Believe." It must be coming soon. Though it's been number one on iTunes Canada (k.d. lang's "Hallelujah" was number two), it 's destined for the same song heap as ghosts of Olympics past. Does anyone remember the theme tune for Turin? No, didn't think so.
But look past Yanofsky's flying wings and Bryan Adams' geriatricdance and MuchMusic's hot tub parties, and music has been a constant companion throughout these games. Like fashion, athletes aren't exactly known for their subtle DJ sets: there's a reason why grown men in jerseys still enjoy 1970s fist-pumpers, but there have definitely been some unusual choices this week.
Gold medal mogul skier Margarita Marbler did her thing to Billy Idol's "Dancing with Myself," but her Czech competitor took a tumble to the Entourage theme song. Jeremy Piven has been on TV way too long, that's true. Kazakhstani freestyle skier Dmitriy Reiherd likes the Beastie Boys.
But it's been in skating where we've seen the most hits and misses. Japanese skater Nobunari Oda bravely lutzed to Jimi Hendrix's "Bold As Love." The Estonians kept it real, when Taavi Rand and Irina Shtork danced to the original version of Metallica's "Nothing Else Matters"—causing a "teehee oh my" among the commentators. The Hungarians danced to "Hush, Hush" by the Pussycat Dolls, doncha know.
So how does this work? A choreographer goes through their record collection and says, "you know what winning ice dancers need? Linkin Park!" Americans John and Sinead Kerr danced to a remix of "Crawling" by the band. I wonder if Kerr's tough-as-Robert Pattinson outfit came before or after the song was picked?
Who knew Linkin Park was the missing musical link? Brits Stacey Kemp and David King have also danced to the band's song "Numb." (video from another competition.) Mind you, I can see how the drama of metal and rock ballads translate in mood. And honestly, I didn't need to hear another Phantom of the Opera.
I like to think it's more like this:


Blades Of Glory - My Humps via Noolmusic.com

Weir+Gaga. Mais oui
But why didn't Evan Lysacek pull out the "Seven Nation Army?"