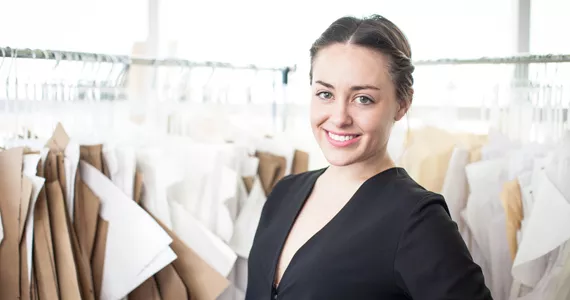 Conni Zafiris is a guru of adventurous style. Playing with structure, fresh fabrics and bold colours in her latest collection, she inspires the girls to get brave.
Zafiris says she was always drawn to artistic outlets as a child, but her passion to create her own kind of fashion stemmed from second-hand shopping as a teen. "I just started playing around with pieces I'd find," she says. "I'd collect a bunch of things that needed alterations, take them apart and just fuse things together."
After buying her first sewing machine, Zafiris asked her grandmother to show her the ropes. It quickly became more than just a hobby; her makeshift garments began reeling in positive feedback from people over social media, begging her to craft them something new from something old. "It organically became a business because there was that customer interest," she says. "I honestly didn't even think I knew what I was doing then, but people were so excited about it all."
Zafiris launched her first line Second Chance back in 2009 before leaving her home in Halifax to attend LaSalle College in Montreal in 2011. She focused on fashion design for women's wear and graduated last May. During school she began to build her eclectic line–trendy pieces mingling with a bold yet feminine edge.
The 26-year-old designer says her current collection, Zafira Apparel–a feminine spin on her last name–better expresses her aesthetic taste because each piece was dreamed up, drawn and designed by her. The turning point for Zafiris was deciding to return to Halifax to promote her new line. Jeanne Beker–Canadian television personality and fashion arbiter–inspired Zafiris to become a homegrown designer. "Create a buzz when it's quiet," Zafiris recalls Beker saying. "She said if you're from a small town, go back because it's easier to make a name for yourself in a smaller place."
That's precisely what Zafiris has done. She began by hosting pop-up shop events, presenting her collection for purchase in various spaces around the city, helping familiarize people with her brand.
Since she wants her collection to stay online based, her goal this year is to grab the attention of as many fashionistas as possible. Zafiris is already meeting that goal, as Atlantic Fashion Week showcased her 2014 Spring and Summer collection in October.
Zafira Apparel currently has 26 pieces with different colours and prints to choose from. She carries blouses, skirts, rompers and dresses, most appealing to the under-40 set. "Those ages usually want to make the type of statement I've created," she says. "But it's really important to have some pieces for everyone and nothing I have is overdone or over designed, so it can work for anyone."
Zafiris says she's inspired by Australian fashion because they don't shy away from bold, bright colours and elaborate prints. She praises the experimental and carefree diversity that culture brings to their apparel.
But don't worry, she's not planning on shipping her style away anytime soon, Zafiris wants to keep crafting in Halifax for now and promises that all her clothing will remain Canadian made.
"There's no path forged yet for a new designer here. There's no formula," she says. "I think all those things are about to change. There's more of a buzz now and I think we're on the verge of something big."
---
Find Zaphira Apparel on
Facebook
and
Etsy