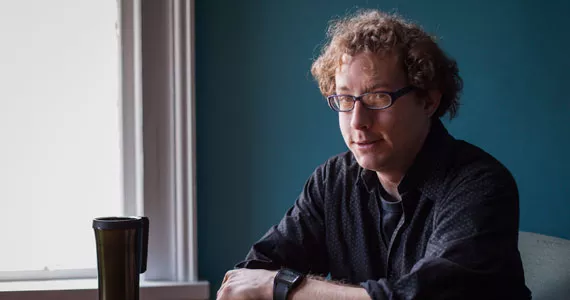 Suffering for years from depression and psychosis, Michael Smith was finally diagnosed with bipolar disorder in 2006. After six months in the Nova Scotia Hospital in 2008, he heard about Laing House. He says dropping by was one of the best decisions he's ever made.
"Initially, it seemed like the only place I could go. I couldn't hang out with my old friends anymore, I was kind of new to Halifax," he says. "I came to Laing House and started talking about the medications I was on with the guy beside me and he understood. It felt like the first time anyone understood." Living nearby on Inglis Street, Smith became a Laing House regular.
"The peer-support model kept me coming back. Never had I found this kind of empathy or understanding anywhere else."
While Smith experienced prejudice from employers and the general stigma of mental illness, he says the biggest prejudice he faced was his own: "I had so much self-shame and embarrassment and guilt."
Laing House's member-driven model and the opportunities it offered gave him the support he needed to recover. Smith began participating in Youth Speak, sharing his own story to help others see the importance of understanding mental health and to seek support for sufferers. Now, Smith is lobbyist for mental health funding, a comedian with Stand-Up for Mental Health and a peer-support worker for Capital Health. Last year, he won an Inspiring Lives Award from the Mental Health Institute and the Canadian Mental Health Association.
"My own recovery," he says, "is my strongest tool to give someone else hope for the future."
---
Laing House
1225 Barrington Street, 425-9018, lainghouse.org
To empower young people living with mental illness, Laing House offers four storeys of friendship. Members aged 16 to 30 with diagnosed mood disorders, psychosis and/or anxiety engage in a model of peer-support that makes Laing House the first of its kind in Canada. Colourful rooms contain art practice, cooking, conversation and, most importantly, community. "We use the peer-support model for everything," says communications coordinator Caitlin Jarvie, "Because everybody needs a friend." Founded in 2001, Laing House gives youth space to be themselves when facing alienation from work, school and family.
How to give: Financial contributions can be made online, and there's also need for small holiday gifts for members.
Phoenix Youth & Community
6035 Coburg Road, 420-0676, phoenixyouth.ca
For 25 years, Phoenix has provided support and opportunities to at-risk and homeless youth with prevention programs, counselling, access to social services and a 24-hour youth shelter on Tower Road. "Poverty and homelessness are complex. It requires a variety of programs and services to address issues like mental health," says Crystal Cowie, Phoenix's director of development. "Over 1,000 youth came to our doors for help this year. The confidential and non-judgemental services young people receive at Phoenix is key to addressing mental health concerns and is the first-step youth take on the path to achieving their longer-term goals."
How to give: Phoenix's wish list includes new home products, stocking stuffers and everyday items like bus tickets and toothbrushes. Phoenix also delivers over 200 stockings to kids and families, and needs to fill them with socks, mitts and hats, and other small gifts.
Halifax Sexual Health Centre
6009 Quinpool Road, 455-9656, halifaxsexualhealth.ca
The Halifax Sexual Health Centre is the place to go when seeking anonymous sexual health services. Treating victims of sexual assault, offering education for positive sexual health and identity, anonymous HIV/STI testing and facilitating access to abortion services, counselling and free birth control, HSHC is available to you by appointment. Staffed by medical professionals and clinical volunteers, HSHC books confidential medical sessions and offers programs and outreach events to educate on all facets of sexual health. HSHC recognizes that sexual health and mental health are intimately linked.
How to give: People aged 17 to 24 can volunteer on the Youth Committee, which engages in peer health education and public awareness campaigns. The clinic also could use financial donations and other volunteers. See the website for details.