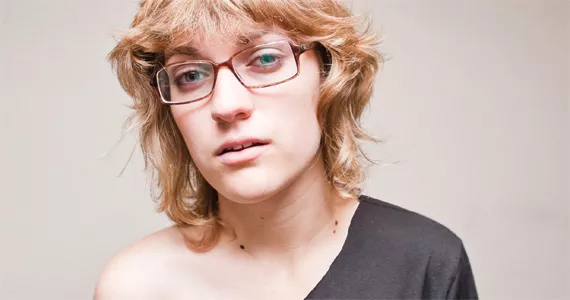 The whole family tells a version of the same story. She was either six or seven, her Dad thinks; they sent her to her room "for something" her mother doesn't remember; from outside her door they listened to her sing a song about being sad that she doesn't know the precise lyrics to. But the point, every time, is that she was very young, making up songs and singing them in key.
Molly Thomason is 16 years old and she's on her second full-length album in two years. She is Ellen Page tiny and also Ellen Page confident, a humble but driven performer who shrugs off her talent and early accomplishments as if she's just lucky to be here, peppering considered sentences with the odd "chill" or "it sucks" to remind you you're talking to a high school student on summer vacation. It's unsettling and it would be annoying if her songs weren't so promising, if her voice wasn't better than yours.
At the coffee shop Thomason is nowhere to be seen. Her mother, Shelley Thompson, reports that she's in the bathroom, "just singing her head off." They live in Antigonish but are in the city today for a Tunes at Noon performance that's been cancelled by morning rain. They bicker good-naturedly over how to spend this extra time---there's a young friend Thomason wants to say goodbye to, there's a lunch Thompson wants to have with an older one. They sort it and Thompson finds a seat elsewhere. Thomason grabs a can of San Pellegrino and perches unassumingly atop a stool.
"Ever since I heard Avril Lavigne's first album---I was in grade five, I think---I was so amazed and thought she was the best thing ever," she says. "I think she was 17 when that came out, and then I started to think that anybody over 20 who released an album was too old to be doing it: 'They can't be in music, they're too old.' I don't think that now." She laughs. "When the opportunity came along I never really thought about it, I just did it and kept saying yes to whatever."
"Whatever" includes recording her debut, Through the Static and releasing it at 14; nabbing a pair of Music Nova Scotia award nominations; playing shows in Toronto and the UK and now her new album, Beauty Queen, produced by Dale Murray. Both records contain a diversity of styles ---to the former's detriment and the latter's benefit--- which Thomason credits to having a better idea of what she wants now that she's been through it once.
"I think anybody has a really hard time defining their music and picking something they want to stick to. That's something people on the outside of your music do," she says. "I think every record will help me and it will also confuse me because I'll be like 'Now I want to make a record of country songs'; 'Then I want to make a record of death metal songs'---not really---but I never want to limit myself, but I know you can't confuse people at the same time."
Beauty Queen features a handful of girl-and-guitar songs, a '50s doo-wop track ("Shine in the Dark"), a beautifully arranged ballad performed by the Blue Engine String Quartet ("My Amy") and a Taylor Swiftian country detour ("Heroes"), with straight pop-rock filling the rest of the space. Thomason's lyrics are diary-fresh and sharply observational---breakups, makeouts and fuck-offs---and she sings them in a clear voice of surprising strength that can stretch high when she decides it should, which is not often. Onstage she plays acoustic guitar and there's a tension in her stance, like she could explode at any time, like a blonde Hayley Williams. She's prolific, casually tossing off "102" as her current song tally.
"I don't think I like the idea of writing for an album, or the idea of being rushed, or feeling an obligation to be writing," she says, then considers it: "But I mean it could be cool, because maybe that's something that would make it all more cohesive as a sound, that you're writing a specific way. Maybe I should try that."
Her parents are theatre vets and they know how the arts work in Nova Scotia, but they're cautiously optimistic. "I thought, 'I'm not gonna fight this, because I love her too much and we've got a great relationship, and I'm not gonna jeopardize that,'" says Thompson from the family's cottage. "I'm not gonna let her do everything she wants, but I'm gonna facilitate her and help her and let her go as far as she can go and then make that sure she stays in school, and make sure that she keeps her marks above 85 and not whip her out to tour Canada or anything."
"What can you do? I think any parent worries about any kid," says her father, Ed, from his Antigonish office. "The advantage we've got is that we do know one part of what you might call 'show business' from the inside. A lot of people don't understand how hard-working it is, actually."
Thomason will be a senior this fall and she's leaning toward time off after graduation, toward her own apartment in Halifax ---she and her mother scanned For Rent signs on the drive in today, debating what did and didn't look like "a crack house" in the north end---and then Foundation Year at King's, and psychology after that, maybe.
"I mean, music is everything but music business isn't everything and fame isn't everything and you want to be a well-rounded person with a nice family and a nice house," she says. "I think it's really important to be educated, because at the end of the day you're left in your own head; you're not, like, left with whoever signs you or whoever books your tours."
"I don't want her life to become a template for the songs," says Ed. "I don't want her to be unhappy to be an artist. Not many people can go very far in any direction before there's a circumstance of unhappiness, you know? I just hope that she keeps a sense of perspective and she gets to enjoy life."
"I want people to listen to her songwriting and go 'That's a great song,' not because it was written by a 14-year-old or a 16-year-old but because it's a great song," says Thompson. "I listen to her writing and I go, 'You're a terrific writer. You're a really good writer.' And if I want anything for her, I want---10, 15, 20 years from now---people to be saying, 'Molly Thomason is a fucking great writer.'"
"They just want to know that I'm going to not regret anything," says Thomason, looking out over the city blocks she can't wait to walk as a resident, "and make sure that when I do what I do I'm gonna be prepared for what I've chosen, and that I'm going to be able to deal with the choices I make."
Molly Thomason at Halifax Pop Explosion, Wednesday, October 19, 8pm, The Company House, 2202 Gottingen Street