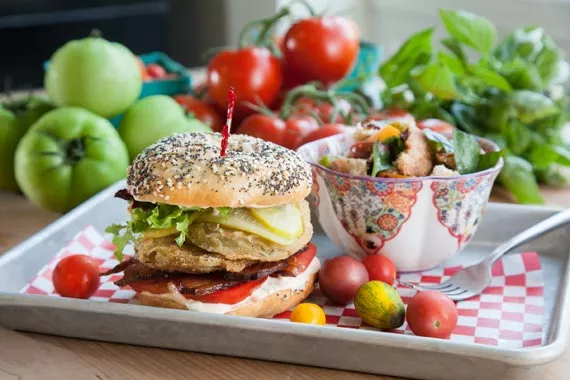 The reputation of Renée Lavallée's popular Dartmouth sandwich shop, The Canteen, is built—just like its sandwiches—on a foundation of freshly baked bread. Along with a devotion to beautifully baked sourdough, focaccia and bagels, The Canteen embraces seasonal ingredients that are used in creative and classic combinations. And there are very few things bread loves more than tomato.
"There's nothing better than a summer tomato that comes out of the soil, still warm," says Lavallée. "Just a fresh tomato on bread, with a little bit of salt and pepper. That, to me, is perfect."
Lavallée also likes to roast fresh tomatoes. Just get a hot oven and a shallow pan, pour in a glug of your best olive oil, give a generous toss in salt and pepper, and toss with whole garlic cloves and fresh herbs. "They just turn to candy and you can put them on anything," she says. "It's great on a sandwich, on a piece of fish."
With green tomatoes in good supply right now, the time is ripe to make green tomato sandwiches, which have just popped up on the restaurant's menu. "I do it Southern-style," says Lavallée. "We bread it in cornmeal and fry it up in our skillet. You want to be able to taste the green tomato. You don't want to put a ton of other stuff with it; keep it classic." She adds pimento cheese, pickles and some greens to her sandwich. "I love pimento cheese: it's just mayonnaise and cheese and pimentos. It goes together really nicely."
Fresh and stale go together really nicely with Lavallée's panzanella recipe, which uses any of the other tomatoes currently in season. "Use day-old bread, and fresh, beautiful tomatoes," Lavallée says. "Only use them when they're in season. I don't believe in cardboard tomatoes, or those ones with pink, mushy flesh. Nope." What Lavallée does believe in, though, is that great foundation. So try making your pazanella salad with some of The Canteen's day-old bread.
---
[>
Panzanella salad
serves 4
Ingredients
For the salad
1 loaf stale sourdough
2 cups mixed tomatoes (grape heirloom, cherry, vine-ripened); cut into bite-sized pieces
1 handful capers; drained
6 anchovy fillets; chopped
1 large bunch basil; roughly chopped
1 cup kalamata olives; roughly chopped

For the vinaigrette
4 cloves garlic; minced
Juice of 3 lemons
1 cup olive oil
Salt & pepper, to taste
Method
Cut bread into bite-sized pieces or pull apart into bite-sized pieces for a more rustic look. Mix with salad ingredients. Emulsify the vinaigrette ingredients: shake it in a Mason jar. Pour vinaigrette over salad and toss. Season to taste with salt and pepper. Keep at room temperature.