Sarah DeVenne
Ladies love cool aliens
Ever seen that movie Earth Girls Are Easy? Talking to Doctor Sung, who plays keyboards in Coast Best of Music Winner Tupperware Remix Party (and who periodically inhabits the body of Jorin Caldwell) I feel a little like I'm getting mash notes from Jeff Goldblum's sexy alien character, Mac.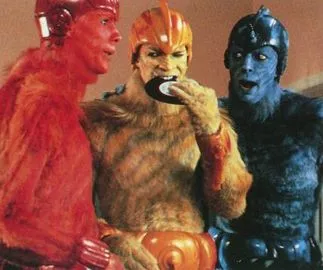 He's the blue one....sizzle
The pylon-headed synthbot took a few minutes to project some messages to me about tonight's show at the Paragon with Three Sheet.
Now that you're getting all famous and stuff, are you still going to play the house parties you're known for?
Doctor Sung: In all of my travels throughout the galaxies and dimensions, I have never experienced anything quite like the 'house parties' on your planet Earth. We find playing these events to be exceptionally intimate and inspiring, often causing frenzied dance parties the likes of which I have never seen. Our mission is to eliminate boredom and sadness across the universe, and it seems we been particularly successful in party settings where people are among friends and disregard their inhibitions.

Your style of music seems to fit in with a lot of different bands (i.e. Three Sheet's hip hop.) Ever had an unexpected reaction from a crowd?
It is absolutely true that we have played alongside a very eclectic assortment of other bands in a wide variety of often unconventional venues. From playing at private staff parties, to all-girls school coffeehouses, to quiet vegan cafes, to heavy metal shows, we have maintained a non-discriminatory approach to show booking. We feel our message of love and groove is not one that should exclude any person or place, and we hope that this along with our music and appearance can transcend conceptions of genre and appropriateness.
Tupperware Remix Party can soon be found dropping an album and projecting themselves to various venues around the country soon.