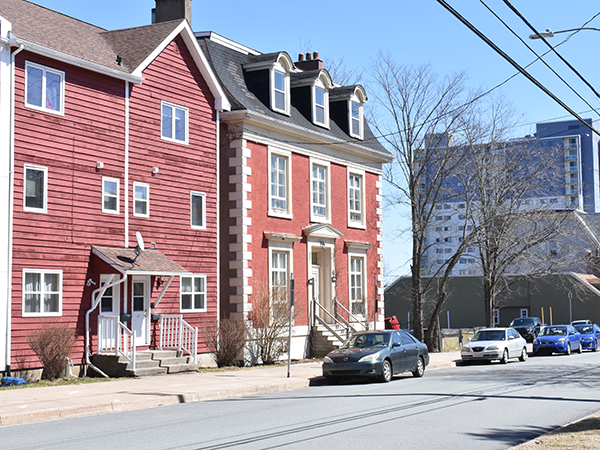 The vacancy rate in Halifax has fallen to a measly one percent, lower than most cities across the country.
According to the Canada Mortgage and Housing Corporation (CMHC) the vacancy rate dropped to one percent in 2019—meaning that, on average, only one percent of rental units were available at any given time. Availability of two-bedroom apartments dropped even lower, to 0.9 percent. This left people in Halifax desperate in their search for a home and landlords overwhelmed with inquiries—even with increases in rent costs across the municipality.
"If students are starting to look at houses in January, they're definitely in trouble," says Donna Howard, a real estate investor at Fourfax Holdings Limited, a local company that has been renting student housing for almost 30 years.
Howard says 95 percent of Fourfax's inventory was rented by December 2019—including leases that start in May and September 2020. "We barely need to advertise as word of mouth travels quickly through the student community. Multiple groups show interest and units are spoken for on the day of viewings, as students are afraid they'll lose them."
Rebecca Hartery is one of many renters who have faced the grim reality of low availability of rental units across HRM. After her landlord upped her rent, she put the unit up for a sublet in hopes of finding somewhere cheaper in the meantime. But Hartery struggled to find a single non-basement apartment for under $1,400 a month until she eventually moved back into the spot she'd previously lived in. Her friends have been less lucky.
"I've had multiple friends that have been evicted from their apartments so that the landlord can jack up the prices or Airbnb the homes," she says. "Landlords are aimlessly increasing rent by an extra $600 a month. If the government keeps allowing this, we will be forcing people out into the streets," she adds.
"When I put my apartment up for lease back in October 2019, I received over 100 messages in less than 12 hours. So many messages were desperate, saying they will not have a home at the end of the month because there are few available living situations. This is a crisis. We need affordable housing options."
Of the cities included in CMHC's report, Halifax was in the top 10 for most expensive average rents with $1,113—a 3.8 percent increase from last year. And while the municipality has repeatedly stated that city hall has been approving many apartment buildings, there are still not enough units. (In the south end, there was a seven percent increase in supply, but the vacancy rate still plummeted to only 0.4 percent).
The situation in the south end isn't the case across the municipality—and there are many factors that influence the numbers warns Kelvin Ndoro, a senior analyst at CMHC.
Rather than focus on the overall average, says Ndoro, it's better to focus on specific areas, specifically the average rate by bedroom type and construction.
According to Ndoro, in 2019, the average duration of construction to complete a unit was 26 months. About 2,500 units were started last year—the highest number of apartments started in Halifax in any single year. On top of this, there are an additional 4,000 rental units under construction in the HRM.
"It's just a matter of time before these units are completed and released onto the market. However, right now these units generally have higher average rents than the older ones already on the market," says Ndoro. "We need to make a conscious effort to make sure that the new supply coming in is also affordable or we might be talking about this issue for much longer."