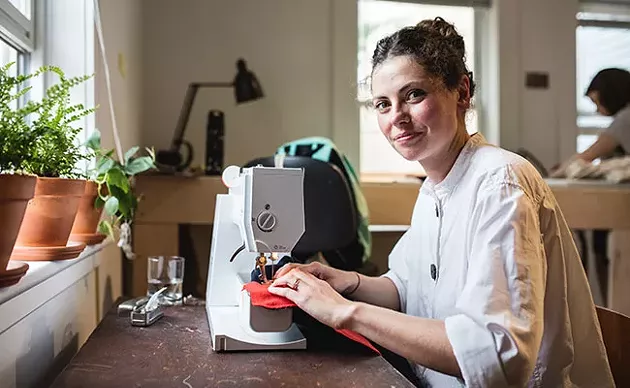 When Tabitha Osler, NSCAD instructor and visionary behind the upcoming children's line Faire Child Makewear Limited, talks about the environment, her eyes light up: "The world is at a tipping point. Fashion is the second most polluting industry next to oil," she says.
Osler explains that since starting in the industry, at the concept-driven Royal Antwerp Academy, bridging eco-awareness and fashion has been her goal: "It's one thing to make a product out of recycled content, but it's only going halfway there when we have lululemon making stretch pants out of recycled content, but they're not recyclable."
Faire Child Makewear, launching at the end of September, will take that next step. "I wanted to plant the seed of innovation by having this jacket made of recycled content that's endlessly reusable," she says. "I want children to think 'What else around me can I reuse?'"
Until the littles in your life can get their mitts on Faire Child, Osler shares tips on how to green up your wardrobe:
1. "The biggest impact a piece of clothing has comes during its life cycle." Reduce that by wearing items more than once before washing. When you do laundry, use cold water and hang items to dry.
2. "Think before you buy. Buy well," because you need fewer clothes than you think.
3. Osler advocates buying "heritage brands" (items made with traditional techniques) because they're more long-wearing.
4. Don't forget about vintage: "Those clothes have been around for years. They're built to last."