You've probably been wondering W.T.F. or "Where's The Fun" in New Brunswick on Labour Day Weekend, from August 31 until September 3?
We'll give you some hints: giant lobsters, fried clams, and the highest mountain peak in the maritimes. Well, let's just say that this weekend is the ultimate maritime getaway.
Could you find festivities closer to Halifax? Probably. But no one does eccentric and fun like New Brunswick. Get out of your funk, leave the HRM for a weekend, and why not get a little weird?
Leave without a trace and come back with stories you'd rather not tell – don't worry, your secret love-affair with NB is safe with us.
Our main destination for the weekend will bring you the last whiff of summer at high altitude.
Mount Carleton Provincial Park
is the optimum balance of woods, interesting plant species, and mountainous hikes. Did we mention that at one point you can catch waterfalls and spot 10-million trees? Talk about fresh air.
Abandon your cell service and trade it in for the highest peak in the Maritimes: Mount Carleton. Maybe start your nature adventure with the simple Mount Bailey, move to the off-the-beaten-path Mount Head, and then challenge yourself with Mount Sagamook.
Get in all of the hiking time by choosing to camp here for awhile to try it all.
The site is cash only, and late reservations (after 8 pm) need to be called-in within 45 km of arrival to the park.
On the drive out to Mount Carleton, there are two stops we recommend: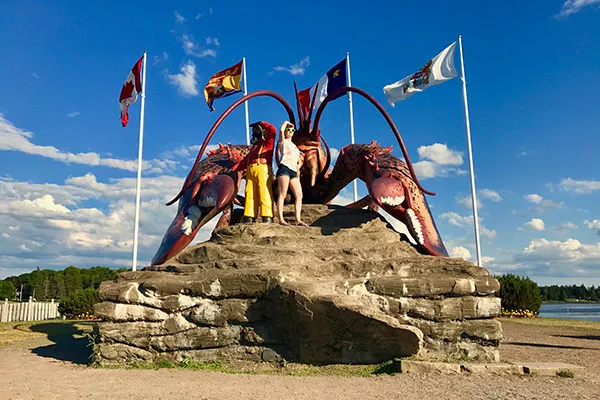 The first is in Shediac:
Does it get more Maritimey than being "The Lobster Capital of the World"? In honour of its lobster fishing industry, you can proudly sit upon a
giant lobster statue
. Don't pretend you don't want a photo – we know this is something you'll want to show your kids one day.
Say cheese, smile for the camera, and show off your Maritime pride – all 90 tonnes of it.
Three hours into your road trip, you'll need a little road trip snack, and we know just the place that'll do the trick.
Chez Léo's
is worth the drive in itself, if only to try the best fried clams out there. This iconic stop is known for jumbo shrimp and scallops galore. Need we say more?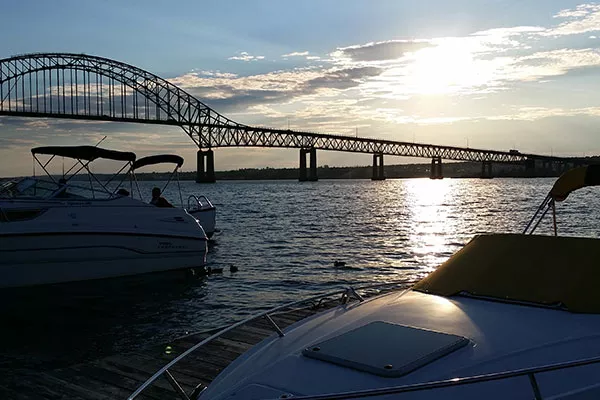 The second stop is a little spooky. Cover your ears, kids, we have some horror stories coming your way.
Miramichi is a must-stop if you're a lover of all things haunted. Better than any movie script, this place has its own real-life ghost story to tell when you choose the
Dare the Dark adventure
.
You'll wander French Fort Cove and hear the mysterious legend of the Headless Nun – it goes a little something like this:
Once upon a time in the mid-1700s, Sister Marie Inconnue was protecting the location of a treasure from the pirates. Intent on plundering the newly settled community, the pirates beheaded her in an act of ruthless vengeance. For centuries, Miramichiers have reported coming across the ghostly headless nun searching – in vain – for her head so she can finally find peace.
Have shivers yet?
If you still don't have enough haunted tales, St. Michael's Basilica is known for eerie laughter, voices, and apparitions of children and nuns – again!
There are some pretty
sweet BnBs
in the area if you're brave enough to stick around for the night…but also at this point in the road trip, it may be the perfect place to call it. If not, continue onto Bathurst: the last city to stop for supplies before your big camping adventure in Mount Carleton.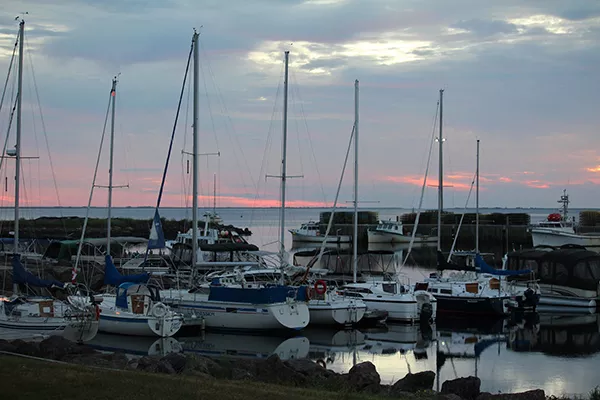 The drive back from your nature excursion in Mount Carleton will be just as scenic, within the charming seaside community of
Richibucto
. Blend Mi'kmaq, Spanish, Acadian, Celtic, and English all together to get a hodge-podge of culture to end your trip with.
Stop for a little sugar boost before your drive back home at the
Smile a While Coffee & Dairy Bar
. Not only can you grab a little flavour burst to spice up your vanilla cone, but you can blend coffee and ice cream to give you the perfect pick-me-up.
The best place to enjoy your sweet treat is on the Richibucto Marina, where you can people-watch across 100 boats and around 300 fishermen or prop yourself on a picnic table along the marina and admire the "River of Fire." Richibucto is even known for having the weirdest looking church inspired by ocean waves. So get your ocean fix before you say au-revoir to New Brunswick – for now.
What did we tell you? Didn't that sound like the ultimate maritime experience?
We'll continue searching for every sandy beach and frozen treat to keep you in summer mode for as long as possible. Let's continue to get weird New Brunswick style, and take every last advantage of the warm weather.
What'll it be next weekend, New Brunswick?
This content has been developed and paid for by Tourism New Brunswick, without involvement from The Coast's editorial department.