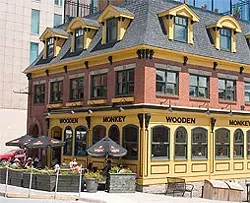 This morning, the folks at
The Wooden Monkey
(1707 Grafton Street, 444-3844) announced
via Twitter
the big news that they have purchased
MacAskills
(Alderney Landing), and will convert it to a second Monkey.
I just got off the phone with a very excited Lil MacPherson, who co-owns the Monkey with Christine Bower, who MacPherson describes as "the business person." A couple of years ago we reported that the pair were looking to open a restaurant in Bedford, but that deal fell through after several months of negotiations, says MacPherson today. Still, Bower kept her eyes open, and when she heard MacAskills was up for sale, jumped at the opportunity.
MacPherson and Bower are joined by Matthew Gass, currently the general manager at Grafton Street, as a investing partner in the Dartmouth location.
"I'm from Dartmouth, lived there for 18 years, so I'm excited about coming back," says MacPherson.
MacAskills will remain open until the end of the month, and then the Monkey crew will take over the space, and quickly renovate the space for an expected December 1 opening, in order to take advantage of the holiday business.
When the original Monkey moved from Argyle Street to Grafton Street, employees, friends and regulars made the event a party, walking the furnishings, kitchen equipment and so forth the block up the hill. While the new restaurant won't replace the old, the plan is to have a similar moving party, this one via the ferry.
What can we expect at the new restaurant?
"We're going to Monkey-fy it!" answers MacPherson. "We're going to recreate the rustic, organic feel. You don't have to have all the chairs matching, or the cups, we'll be re-using whatever we can, including what's at MacAskills, and bringing in artists."
MacPherson is especially excited about the outdoor patio. "They view is spectacular!" she says. She thinks the deck can be expanded somewhat, and better use put to it. "We'll have fireworks parties, Canada Day."
Expect also to see more in the way of music and nightlife than is offered on Grafton Street.
As for the menu, it will look much like the existing menu, but perhaps with some signature items unique to the Dartmouth locale, and MacPherson has been trying to expand the raw food offerings, so expect some of that as well.
The Monkey is committed to using local and organic food, and news of the second location is elating suppliers, says MacPherson. "We can buy right there, from the farmers [at the Alderney Landing farmers market]," she says, "and our suppliers are looking to amp up production."