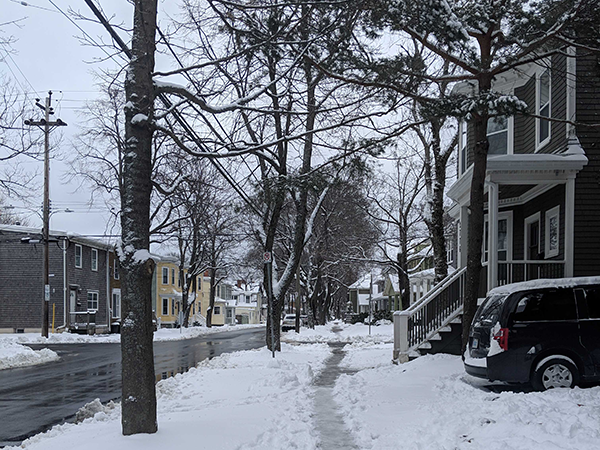 S now has officially fallen on the streets of Halifax. Chances are a lot more of it is coming this winter.
And with great snow comes great responsibility. That is—the responsibility of keeping sidewalks clear.
This season, that responsibility falls on four companies that have been awarded new, four-year contracts by HRM.
Excel Property Maintenance was awarded the contract for the south area of the peninsula for a total of $2.5 million. Leahey's Landscaping & Contracting Ltd. was the only company to receive two contracts, in charge of clearing the west end and north end of the peninsula for over $6.4 million.
In surrounding areas, Provincial Pavement Marking Ltd. is responsible for Clayton Park-Fairview, while Elmsdale Landscaping Ltd. will cover the Lake Banook-Woodside area.
In total, the city will spend $14.8 million on snow clearing over the next four years—if it stays on budget.
Brian George is one of many residents who was unhappy with the way ice and snow were cleared from sidewalks last year. "I'm tired of being housebound for four months every year," says George, who uses a wheelchair.
George recalls one day last winter where he went to a store just blocks from his home, on Robie Street across from the Halifax common, to get a new tire for his chair.
"I had to take a taxi to go three blocks. And getting an accessible taxi in the city is like pulling teeth," he says.
On the way home, he decided to try out the sidewalks just to see how bad they really were.
"Getting from there to my place usually takes about 10 minutes," George explains. "It took me 45 minutes because of the state of the sidewalks."
In some cases, George says he even has to venture on to the road because he can't maneuver over the snow banks that block the sidewalk.
"Anybody else could've just climbed over it. It wasn't that big, but as a wheelchair user well, that's not going to happen."
The city could have saved some money this year by hiring Tracey's Landscaping Ltd., which bid significantly lower for two of the contracts, but a report presented to council by city staff earlier this year said Tracey's Landscaping. wasn't up to its standards.It's the only company from last season that didn't get a contract this year.
"Awarding to Tracey's would not be in the best interest of the municipality due to its unrealistically low bid prices compared to other bids, past contract performance concerns and recent legal matters with the municipality," the report says.
Last year, Tracey's was responsible for the north end area of the peninsula, where George lives. HRM fined the company $56,000 in damages for not living up to the contract agreements and clearing sidewalks in time.
But, HRM says in the coming year, all contractors will fulfill their duties.
"All companies that were awarded a contract are expected to meet the parameters outlined in the tender," says Erin DiCarlo, senior communications advisor with HRM.
Those parameters include time deadlines to clear sidewalks of ice and snow. For priority 1 sidewalks in the downtown core and along main streets, the standard is 12 hours after a storm ends.
For priority 2 sidewalks along transit routes, the rule is 18 hours. All other sidewalks are expected to be cleared within 36 hours of a weather event. But a disclaimer on the municipal website says blizzard conditions, multiple storms or snowfall over 30 centimetres may delay slow clearing.
So far this season, HRM says it's received 167 complaints about inadequate snow clearing. Of those, about 55 were related to sidewalks specifically.
"The municipality and some contractors have purchased icebreakers to help clear packed and frozen snow and ice this season," DiCarlo adds, bringing the total to over 250 pieces of equipment.
But George still isn't counting on the sidewalks being any better this year.
"I hate to say it, but I'm not very hopeful," he says. "But maybe they'll surprise me, I hope they do."
Snow clearing complaints can be made by calling 311.