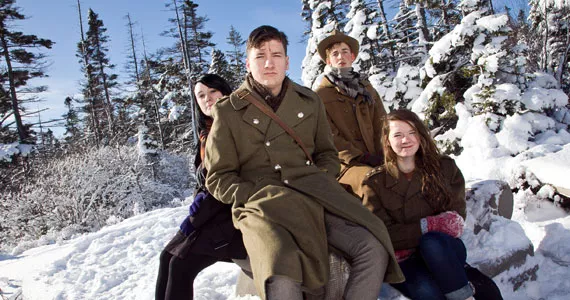 I like the smell of the railroad tracks
I like the taste of not going back
I'd like my troubles before they hatched
I'm goin' my way and I ain't changin' that
A bespectacled and be-scarfed university crowd is crammed into a normally spacious south end cafe on open mic night. The air smells like coffee and fear. The host, sporting an out-of-season Evolve bracelet, runs through an Elliott Smith cover and a pair of originals, followed by an Amber Braverman type with a terrific voice who jams on Laura Marling, then the host again (Gogol Bordello, Son House) and a sweet-eyed dude who covers the title track of Ryan Adams' Ashes & Fire then sings a couple of his own.
The crowd on the outside track of the cafe chats constantly and loudly through all of these performances. Then Willie Stratton, 19, gets up with his sister Grace, 17; Kristen Wells, 19, and Magnus von Tiesenhausen, 20. All microphones are removed. Grace and von Tiesenhausen bookend the stage with a tom each. Wells sits on a stool, banjo in lap. Stratton stands in the middle with a strapless steel guitar.
"I'm Willie Stratton and this is my band," he says into the din, of which he stands many inches above. "And we're gonna play a few songs."
The quartet begins with the languid "Railroad Tracks," which is mostly stringed in the beginning, until the drums come raging in, just the two of them somehow, the shoeless von Tiesenhausen attacking the rims like they've offended him. Their voices rise together in beautifully cracked harmonies, projecting like preachers across dozens of peers who are now shutting their mouths one by one, because nobody in the room expected this.
No one saw this band coming.
Willie Stratton is a tall man with a serious face. When he opens his mouth you expect a British accent to come out, considering his tall boots and long coats and skinny suspenders, but he's from Bedford. He's not reticent, exactly, but he's quiet, his sentences short. "He's cryptic," says Charles Austin, who co-produced Stratton's debut at his studio, Echo Chamber Audio.
Perhaps he's just letting the songs speak for themselves. His influences are an atypical mash of Woody Guthrie, Django Reinhardt and Delta blues. "I'm really into the 19th century and 19th century composers from the Romantic movement---really nationalist, kind of evil-sounding---Wagner and Tchaikovsky," says Stratton, a NSCAD student. "I was thinking one day about it---all those instruments are acoustic, so I wanted to make a folk record like that."
His self-titled 10-song debut was made in the first half of last year. It's full of pump organ, tack piano, saw and bajo sexto ("a 12-string guitar that's an octave down"), foot taps and leg slaps, not a single volt of electricity played.
"A lot the themes of the songs---they seem like Civil War songs, the language is kind of simple," says Austin. "Super well-written lyrics. He really liked Arcade Fire but we can't make something that sounds like that---so we were gonna try to make it super-heavy, try to have dynamics, something that would be not metal, but trying to make something really, really heavy without electric instruments."
Stratton uses a lot of natural elements in his songs---wind, snow, water, forest, fire, sun, sky---which are mostly traditional-leaning troubadour-style numbers about love and/or lack thereof. He's never cynical, never ironic, never whiny---there's always something hopeful in a song, whether in the words themselves or their delivery. "It's kind of about growing up, figuring out stuff," he says.
It's a lovely album, never lovelier than when the band sings together, heads back and harmonizing (best example: "Phoenix"). Even on record you can feel them pulling away from the mics, choosing to find energy in each other, more concerned with the beauty and delivery of the melody than the amplification of it. "It definitely detracts from something when we have to be hanging close to a microphone," says Grace.
"I really love playing in this band, there's something different about how we act as a group," says von Tiesenhausen, who looks like Bradford Cox's little brother. "It's ferocious."
"I like old Radiohead and The Sex Pistols," says the pierced, punk Wells. "You take the raw from that stuff, and put it into folk music, and it comes out with something that's a little scarier. Like a garage band would be before they got signed."
"I really like folk," says Grace, "but I only like folk if it's creepy and raw and has an edge and you can imagine that this guy has probably killed people before and he will probably kill again."
Says Austin: "The raw, youthful energy--- if his voice cracked or something, I wasn't going to yell at him to do it again."
Stratton's voice cracks all over the record, adding to its charmingly rough-hewn tone, but it's not an affectation---it's the only way he knows how to do it.
"I used to sing really quietly at high school coffeehouses and stuff, but no one would listen so I started yelling," he says. "I have a lowish voice and I couldn't really reach any of the pitches of the artists I knew so I had to yell to get to them. I just stuck with that yelling thing."
"We just realized we could all sing loud enough," says Wells, "and still sound like we're singing."
It seems impossible, but the energy rises up even more for "November," the record's opener. Grace stares down at the drum, long hair waving shoegaze-style, as her brother see-saws back and forth. They close with "The River," an off-record track, and by the end of it this fiery, fierce folk machine has long owned the room.
The sweet-eyed dude grabs Willie: "I just wanted to say: That was tremendous." He never saw it coming.
But now he knows.
If the house burns down
We'll keep the foundation
We'll dig up the nails from the ash
Build a new station
If the boat gets upset
We'll tip it back over
We'll make up new sails from our clothes
And bail out the water
Tara Thorne is The Coast's copy chief.