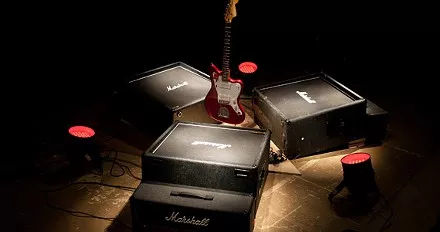 Typically bodies respond to sound, whether it's an ear-piercing shriek or the opening notes of one of your favourite songs. In William Robinson's Ringing Building—Khyber Hallway Pass, the artist has reversed this common convention, so sounds will be created in response to people wandering through the exhibit.
 As part of OBEY Convention VI, Robinson turned a hallway in the Khyber building into an instrument, creating a new way for people to interact with the 125-year-old building. "I've been working on this sensor that has been hooked up to a micro controller, which will convert motion into sound," says Robinson. "I think what will happen is the viewer will walk down the hall, and their distance from the sensor will translate into sound, so the body will dictate."
Ringing Building is one of Robinson's more spontaneous pieces of aural-meets-architectural art, and he wants the exhibit to be enjoyable for the audience. "It's pretty simple in its idea and execution, and it's experiential and you have to participate with it, which is fun," he says.
 Robinson is one of the many artists whose talents are showcased at OBEY, and his artwork fits in perfectly with the experimental music and art festival's aims to showcase artists who challenge the way in which predictable objects or spaces are used. And the Khyber building itself makes sense as Robinson's venue.
 "It's one unique architectural space, it has a history of being a venue for music—so it's fitting in that sense—and each architectural outdoor space has its own parameters," says Robinson. He says each place he works with helps to dictate his artwork, specifically how he will incorporate audio/visual components which relate to the unique space.
 Ringing Building will fit right in to this former NSCAD student's portfolio. His previous work has involved similar explorations of the use of sound in unconventional spaces, including guitar-smashing in St. Matthew's Church on Barrington Street, and a piano concert in Point Pleasant Park. Robinson also is preparing for an exhibit in the courtyard of Dalhousie University's Killam Library this fall. (You heard it here first.)