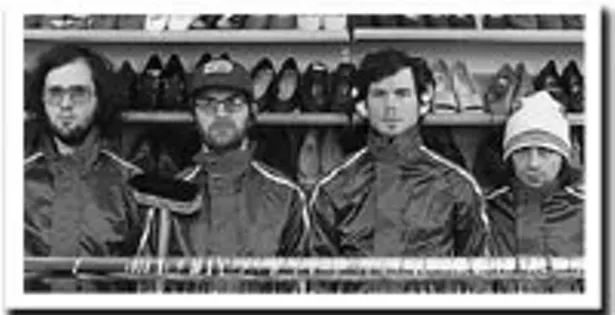 Following a short break from a European tour promoting their second album, there is lots of news to report out of the Wintersleep camp. The group will be supporting k-os' three date campus frosh week jaunt across Atlantic Canada, skipping Nova Scotia for the annual CMJ Music Marathon in New York City. The three-day event will feature the band alongside performances from the likes of The Arcade Fire, Feist and The Doves.
As bassist Jud Haynes explains, the gig was booked upon advice from a friend. "A promoter in Montreal told me that Wintersleep should play CMJ, so we applied," he says. "Then we got in. So now we go and play."
While the line-up features some prominent names, Haynes has his own plans for what he wants to check out. "Alan Sparhawk of Low is playing, we're excited to see his set," he says. "As well an amazing band, Battles, will be there. Arcade Fire, Feist, Why?, Constantines, Holy Fuck. So much to do and see."
Afterwards, there is plenty left on the slate as the workaholics push forward with further plans for their record. "We leave from there for Ontario where we will play at the Ear to the Ground Festival with Joel Plaskett and Julie Doiron," Haynes says. "We'll shoot a music video for 'Jaws of Life,' play more shows and end up at a Friday night showcase at Pop Montreal on September 30. Going to be a busy couple of weeks."
Adjust your gig calendars
It was announced in the summer that The Tea Party would be returning to our city for a second and third show this year after a long hiatus from playing Atlantic Canada. Apparently once was enough — both shows, slated for September 15 and 16 at the Marquee, have been canned. If you've purchased tix, you can get your money back where you bought them.
In 'suddenly good enough for Halifax' news, Atlanta-based Collective Soul will be back, following a sellout gig at The Palace on May 3. The upcoming show is scheduled for October 16 at Dalhousie's McInnes Room.
Whatta Guy
Flashing Light and Super Friend Matt Murphy will soon be seen alongside legendary country performers Merle Haggard and Ronnie Hawkins — but on the big screen. Months following the debut of his film debut at South by Southwest, The Life and Hard Times of Guy Terrifico, will now be displayed for all to see in his hometown at the Atlantic Film Festival on September 18 at The Oxford. The film stars Murphy as the fictional title character making his way up the '70s country music charts. Interviews with Haggard, Hawkins and others are featured in the mockumentary. And for those yearning to see Murphy back on stage with guitar in hand, an engagement featuring the latest collaboration of which he is a part, City Field, is all but confirmed for later this month.
The thirsty rock
The Thirsty Duck will soon be attempting to capitalize where other venues have failed — by converting to an original music venue. Starting in mid-September, the Irish pub atmosphere will begin its evolution into that of live band destination with a Wednesday night open stage. An album release party for The Wives will kick off routine Friday and Saturday bookings for more established groups come the first week of October.
Send music buzz to: scene@thecoast.ca