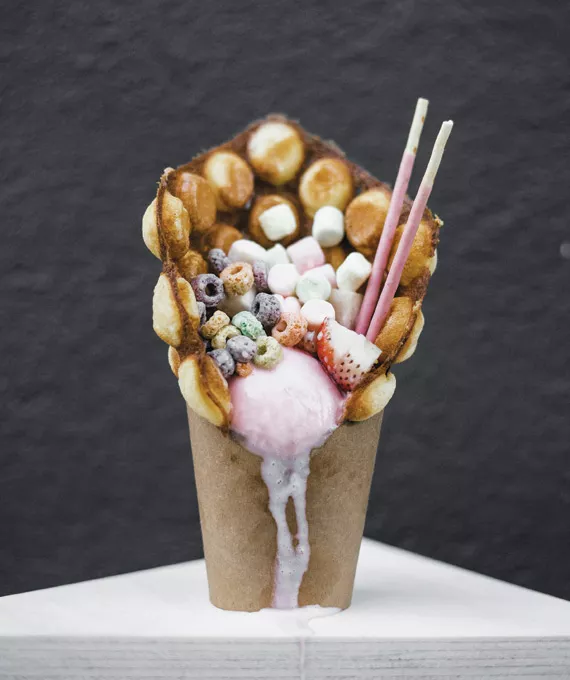 As people stand in long lineups in the hot sun at Bang Bang Ice Cream in Toronto and Hong Kong waffles become one of the season's most Instagrammable desserts, Halifax, of course, quietly lets a rare moment where we are in step with the times go completely unnoticed. In a basement on Spring Garden Road, the folks at Go 2 Eat are serving up an incredible menu of Asian desserts, including Hong Kong waffle sundaes. It's the IKEA of ice cream treats!
Hong Kong waffles are also known as egg waffles, eggettes or bubble waffles. They've been a popular street food in Hong Kong since the 1950s, sold in kiosks around the city, but like all tasty things hopefully do, finally made the leap to our streets. The waffles are cooked in a special griddle that has deep wells for the batter: It's sort of like a waffle iron combined with a poffertjes grill, meaning the waffles are made up of a bunch of doughy puffs.
"Bubble waffles look like a bunch of grapes," says Qitong Wu, owner of Go 2 Eat. "The orderly arrangement feels novel.
"The shell of bubble waffle is crisp and it divides into two layers. The upper layer is crisp and another is like a soft layer cake. It is best served hot, and often eaten plain," says Wu. But it can also be served with toppings: "Fruit, marshmallow, chocolate, nuts, whipped cream," Wu says, describing some of their eggette sundae options. "That is accented with flavours like matcha, chocolate, taro or sesame."
Summer isn't over yet. And even when it is, who cares? After all, every week of the year has a sundae.
Go 2 Eat
5518 Spring Garden Road (basement)
Mon, Wed, Thu 11:30am-9pm Fr-Sat 11:30am-9pm
Sun 1-9pm