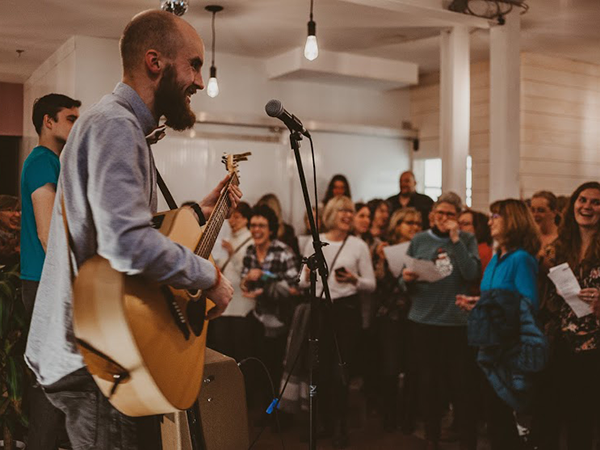 S ometimes the pulse of a moment is best tracked not in books or headlines or even philosophy, but a snippet of song lyrics that, looking back, tell more than any diary entry ever could have.
Richard Hell and The Voidoids did just that with their proto-punk anthem "Blank Generation," a niche hit that distilled the feeling of emptiness and futility that marked the late '70s into two lines:
"I belong to the blank generation.
I can take it or leave it each time."
Forty-four years later, the echoing thump of the chorus' end still reverberates, alongside the social decay and economic decline that caused Hell to sing his nihilist's lament. The smell of rot permeates as we see what the warnings of 1975 have become: The gap between the rich and the poor is ever-growing, student debt is an insurmountable Everest, and we work ever-longer hours to afford the skyrocketing cost of living.
Only now, the deafening silence of blankness has been replaced with a torrent of noise: The ceaseless chirping of cellphones and social media notifications, the endless drone of a packed schedule, the sound of one more work email landing in your inbox.
Where Hell's generation was defined by the empty listlessness of the post-war years, today's young adulthood is defined by our tight, tangled connection to work and time.
Where Hell's generation was a blank, crumpled paper slouching into the trash, ours is a fraying, pencil-smudged to-do list, so full there's no space—not even in the margins.
Here is a look into the drawn generation.
Here is a hopeful suggestion, a timid finger pointing to what small thing we can do next to push back against a world that feels all too weighty.
Here is a reminder of why now, more than ever, we need fun—especially when we think we don't have time.
Laurene Rehman, a doctor of leisure at Dalhousie University, holds a cup of coffee mid-air, early-morning sunlight streaming across her face as if for dramatic effect. "I think with our focus around consumerism, capitalism, the work identity, it means we're seeing really poor health outcomes. In some cases our students are more fragile mentally than they've ever been... Because everything is so focused on success—and success defined very narrowly. One of the things we're trying to do when our students come to us, even in our first orientation, is to get them thinking about what are they gonna do for themselves."
As said students mill about the first floor of the Student Union Building around her, Rehman explains her backstory. A childhood love of swimming with endless nights, weekends and summer breaks spent poolside meant that when Rehman was a youth, she considered running a rec centre when she grew up. Having studied recreation and leisure studies at the PhD level, she's an expert on who people are when they're off the clock—and, in fact, describes herself as a swimmer before listing the letters after her name.
"I tell my students: Well, when you go home at reading break or whatever else, your parents are going to be like 'You're working hard, right? You're studying hard?' not 'Are you taking time out for yourself and actually enjoy something? Did you do something for yourself this last week?' Our whole life is wrapped up in that," Rehman continues.
To her, the best salve to a society that glorifies busy-ness, to an economy that demands longer hours, to a cost of living that often means taking on a second (or third) job, is simple: Reclaim whatever free time you can to be who you really are—regardless of aptitude or outcome.
In short, get a hobby.
Yes, yes, your cries of disbelief are audible—and the data backs them up, to a point. According to the most recent Canadian Census data, only 22 percent of us feel we always have adequate energy to meet life's challenges, so how can we be expected to bankrupt our precarious time budget on a hobby?
Rehman argues that we maintain a stronger sense of personal identity when we engage in a regular activity outside of work. Hobbies help stomp out stress, she says—a statement backed by the US-based Society of Behavioral Medicine (one 2015 study by the society found engaging in leisure activities lowered heart rates and elevated the moods of participants). Hobbies can even slow the progress of burnout.
"It's the busy nature of our lives, we always need to be working—and the best example of that is when you introduce yourself to someone, the first thing that they'll say is 'Hi, how are you?' and 'What do you do?'" Rehman says. "We never introduce ourselves by talking about what we like to do for fun."
In January of this year, Buzzfeed News' senior culture writer Anne Helen Petersen penned "How Millennials Became The Burnout Generation," describing the distinct, about-to-be-pulled-into-the-undertow feeling those roughly aged 22 to 38 are often fighting to keep at bay: "Burnout and the behaviours and weight that accompany it aren't, in fact, something we can cure by going on vacation. It's not limited to workers in acutely high-stress environments. And it's not a temporary affliction: It's the millennial condition. It's our base temperature. It's our background music. It's the way things are. It's our lives."
Petersen is quick to note that, of course, millennials aren't the first to experience burnout—but it's so commonplace in that age group that its become a defining experience, a footprint left by the Great Recession that has levelled us across education, gender, race and income divides.
We're not the only ones this tired, but we're the only ones who don't know anything different.
Will learning to knit dismantle late capitalism? Of course not. Will picking up a guitar mean your boss stops expecting you to be available 'round the clock? No. But, you can't overthrow the regime or even change your own private world in a smoulder of burnout.
Plus, you can spark more joy than a KonMari session by prioritizing the things you like. The 2016 census also states that nearly 60 percent of us don't always have something to look forward to. A hobby—whether it be a regular weekly meet-up with your sewing circle or a personal intention to make more use of the drum kit you splurged on—can act as that small blip of light to hone in on amidst a swirl of stress and commitments. (Click here for a sidebar of Halifax hobby suggestions.)
According to Psychology Today, a hobby also helps interrupt rumination (that feeling when you can't stop thinking about something stressful, like your to-do list or money woes) by reminding you of the bigger picture.
Petersen's in-depth analysis of the world of overwork surrounding us shows it's not a personal failure but a cultural one: Somewhere along the way, the tools that had been developed to help us do less saw us taking on more.
There was no time left for fun. How do we make that time again? And why should we bother?
George Woodhouse enters Gus' Pub in the last hours of a Tuesday afternoon. Guitar in one hand and amp in the other, he nods at regulars as he ambles over to a corner table. He only has about 40 minutes to chat, then it'll be time for him, Jack Bennet and Seth Levinson to set up for The Big Sing, a biweekly pop music choir that is proudly and emphatically aimed at amateurs. (The event's tagline? "Come with the voice you have.")
The Big Sing has been delivering live song sessions of your favourite radio tunes for a little over two years now. Beginning in the now-shuttered Company House, the group has warmed the stage at The Common's Canada 150 celebration with a rendition of "Summer of '69," sung backing vocals for jazz-pop crooner Coco Love Alcorn's most recent Halifax concert and, perhaps most notably, hung out with Feist when she was last in town, covering "Mushaboom"—with Feist both directing the effort and singing along, too.
The only requirement to join The Big Sing? Enthusiasm, meaning it passes Rehman's bar of being a low-risk foray into trying something new (no one will kick you out if you suck). It also pushes back against the increasing specialization Petersen describes millennials and generation z being moulded into. After an entire school experience of being told to avoid what you suck at and lean into your strengths, here you can come and truly be bad at something and see it doesn't matter at all.
"Right from day one, we were hoping to get like, 20 or 30 people and it was 100 people on the first night. The Company House felt packed. We knew right away people weren't coming for us, because they didn't know us. They were coming for the idea of singing together, this ancient thing that you never get an invitation to do in public unless you're good at it," Woodhouse recalls as Levinson joins the table.
It all started after Levinson spent an evening singing with the all-level, pop-focused Choir!Choir!Choir! in Toronto—which happens to be co-run by former Haligonian Nobu Adilman. "It was like a fire under my butt: When I was in the middle of it, I was like 'This has to happen in Halifax' and I went to see Nobu, who was conducting, and I was like 'You gotta help me make this happen in Halifax,' and he was like 'No, you can do it yourself, but you should look for a guy named Jack who was here a week ago—he was interested too—and see if you can do it together," he recalls.
Woodhouse picks up what happened next: "And then Nobu's advice to Seth, when he's like 'OK, how do I find Jack? Do you have a last name?' He was like 'I dunno, his name was Jack. Walk down Barrington Street and yell 'Jack!'' So, Seth came back to Halifax and googled 'Jack choir' and found him."
"And once I connected with Jack, he brought George here into it," Levinson finishes as the two laugh over the memory.
Tonight, they'll be covering REM's "Losing My Religion," having reworked the original tune to create three harmony lines accommodating singers with low, middle and high vocal ranges.
Singers begin to trickle in, some even wearing turquoise t-shirts with The Big Sing's logo emblazoned on the front. Lyric sheets are passed around. In the following two hours, this group of amateur Micheal Stipes will talk to each other as if they're true bandmates and not simply a bar full of strangers. The crowd of about 50 leaves as friends.
Jack Bennet climbs onstage as the event officially begins. A rigid conductor, he slices the air sharply as the self-identified high voices sing warbling "oohs" at the end of the first verse: "We need to come in high and sharp. Again," he says, a smile bursting forth as the high voices rise to meet him, both literally and figuratively.
The crowd—a mix of north end hipsters with fanny packs, elderly folks, REM diehards and married couples talking about the drive in from the suburbs—erupts after the final sing-through, which sees every note hit with the sharp precision that'd make Bennet proud. Woodhouse backs the effort on guitar, telling everyone "just breathe, you know the words" before the song starts, and leading the round of applause as it ends.
Maybe half the battle of bringing back fun is showing up.
"Well in a way, if you feel inspired and energized, that's what matters to us. People getting together and doing something together and feeling good together is the point. And, kind of amazingly, I think that translates to the product—even though it's a bunch of untrained voices, the enthusiasm translates to the final product," Levinson says. He's not wrong: The final run of "Losing My Religion" sends a shudder through the crowd as the amateur singers hear the magic their vocal chords are making. Even though you don't need to know how to sing, you do need to try—and that stretching towards an accomplishment, that honing of a skill, allows for personal growth in a safe, low-risk way.
Bennet's devotion to doing one's best—even if that best might be beginner at most—ties into a feeling both Rehman and Levinson touch on. While being talented at your chosen hobby is decidedly not the point, neither is showing up with a slack-off attitude. Practicing a hobby and putting in effort has a value in and of itself, embodying the quest for the ultimate good Plato describes in his OG guide to life and happiness, The Republic. It is worth it simply because it is.
Jo-Ann Shaw sits in the back of a Bayers Lake Tim Hortons, reusable shopping bags resting by her feet. She's not one to define herself by her day job, where she builds telescopic gun sights. "I'm more apt to call myself an artist, not a constructor of rifle scopes."
It helps, of course, that she's not here to share about her day job, but about being a pottery instructor at the George Dixon rec centre, where she teaches all-level classes about surrendering to the clay. Lately, she says, the registration for classes has gotten so intense the website will stall from the large number of people trying to join. A woman who's been attending Shaw's classes for years wasn't able to secure a seat in the last round of sessions.
"I think everyone should have a hobby." Shaw continues. "For me, it's a stress reliever as well, because my job can be very exacting, it's very precise and it can be hard on the head sometimes. So last night, work was just being work, and I went to teach. And even after going through that traffic jam and whatnot, I got there and by the end of the night I was completely revived. I didn't wanna go to bed. I was like 'hmm, I wanna do more pottery.'"
Shaw adds that if she didn't teach pottery, "I don't think I'd like my life all that much."
Throughout Shaw's life, her extracurriculars have acted as a sort of through-line, a source of community and self and, occasionally, income. They've also been an endless space to explore and develop her creative capacity.
She reaches into the bags and pulls out glass cases showcasing her miniature pottery—bowls and vases and platters the size of the end of your finger. She opens a second case of carved wooden chairs, the size of your palm. She also paints, sketches, sculpts bronze and tools leather. This summer, she's taking her first woodworking course. "I like trying something new when it comes along."
Rehman drains the last of the coffee from her cup. As more and more of us need to work longer hours to make ends meet, it feels like we're losing the ability to think of time apart from money—to consider spending an hour on something without getting paid in return. This, in part, explains the pressure even amateurs face to monetize hobbies: The idea that you'd take one of Shaw's pottery classes not to feel the clay in your hands, but to learn how to throw pots well enough that you could open your own Etsy shop. Instead of focusing on doing things because we enjoy them, of pursuing pure fun—and therefore happiness—in the way Plato would approve of, a pressure to become better can threaten the amateur's attempt to foray into something new.
"A hobby for the hobby's sake has really disappeared, and I think part of that is consumer culture," Rehaman says. "The consumer culture is driving so much of what we do that you can't just assume that someone would want to do something for its own sake, for pure leisure, pure enjoyment. It's more like: 'You're doing this, what's next? What's the endgame?'"
Not even Rehman's parents have been able to escape the slip towards seeing their hobby as a potential windfall: "It's funny because my parents are stamp collectors and when they first started in this, the passion was simply finding that really unique stamp. But now, when I talk to them, it's like 'Dear god, if anything happens to us, watch out for the stamp books because they are worth so much money,'" she continues with a laugh.
Rehman says one of her colleagues is studying the concept of "flow"—when you get so into what you're doing time is just suspended. That momentary divorce from the clock allows your brain to exhale and is part of what makes hobbies so good for us.
Shaw says it's a feeling she's familiar with: "Sometimes, especially on a weekend, I'll get so involved in a project that I'm absolutely not aware of the passage of time."
Psychology Today backs up this feeling, saying these sorts of involved activities invigorate us more than more passive leisure (ahem, here's lookin' at you, Netflix). "Time flies, self-consciousness disappears, and you are fully immersed in the activity at hand," the article states—before adding that hobbies that stretch our skill set tap into "this increasingly elusive state."
Coming out of the semi-zen-trance of flow feels like the voracious hunger that strikes post-swimming: You are at once depleted and satiated. You need to keep going forever, but you also need to sleep now.
It's a matter of trading fatigue from the things that must be done, for the things you love doing—and, oddly enough, it channels the same energy of the scream-sung lyrics of "Problems" by Hell's contemporaries, the Sex Pistols:
"Eat your heart out on a plastic tray
You don't do what you want
Then you'll fade away
You won't find me working
Nine to five
It's too much fun being alive."