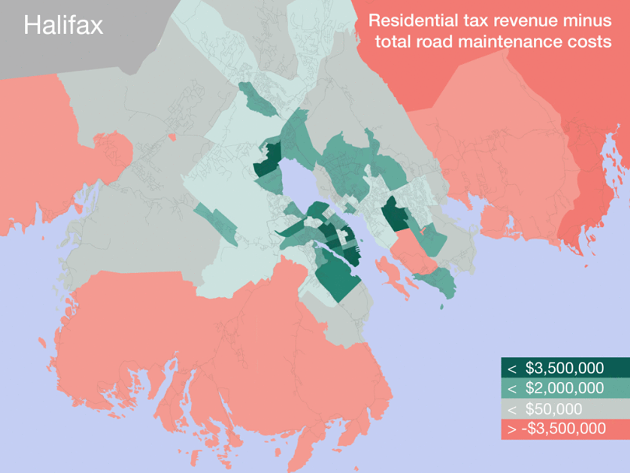 The more some neighbourhoods cost HRM to maintain, the less tax revenue those same communities are generating.
So says a new analysis of the correlation between road length and density in cities across the country that found some dense urban communities in Halifax are
subsidizing
their affluent suburban neighbours.
Urban planners Tristan Cleveland and Paul Dec crunched the numbers over the past year in partnership with Our HRM Alliance. The duo presented their findings last week at the
national
Building Resilience conference in Calgary, and Thursday afternoon at Dalhousie's school of architecture.
Comparing census areas by subtracting road maintenance costs from total property tax revenue, the resulting figures show several neighbourhoods in Halifax aren't carrying their fiscal weight.
Many of HRM's poorest communities are perversely
subsidizing
high-income neighbourhoods on the fringes, say the researchers.
Glen Arbour, for instance, contributes $370,000 in tax revenue, after subtracting road costs. But Fairview brings in over five times that revenue—$2.1 million—despite an average household income half that of Glen Arbour.
"The more a place costs taxpayers, the less it's chipping in to cover its own costs," says Cleveland. "It's just a totally insane financial strategy for the city to be investing in new communities that should be making us wealthy and are instead burdening everyone with more infrastructure."
An increase in road lengths predictably drives up service costs like road maintenance and snow removal. But Cleveland says he was surprised to find those costs increase exponentially as density drops.
"We can't be developing like that anymore. It just costs the city too much."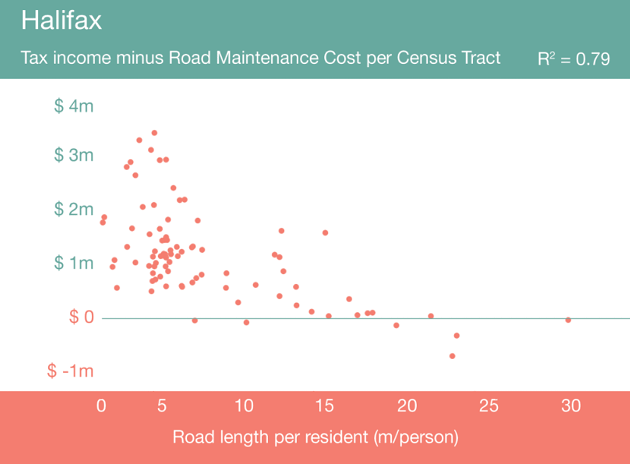 Over the last 20 years, the total road length per resident in urban and suburban HRM has increased by five percent. Essentially, the city is "going the wrong way," says Cleveland, if it ever wants to effectively manage property taxes.
"If we don't make new communities more efficient than our older suburbs and communities in the core, we'll continue to
subsidize
the new ones."
Based on the findings, Our HRM Alliance is calling on the city to decrease Halifax's average road length per resident from its current seven metres to six, hold any new developments to a maximum of 7.5 meters per residents and look into reforming property taxes to reduce "cross-subsidization" of neighbourhoods.
"This shows why the upcoming
Green Network Plan
is so important," Our HRM Alliance coordinator Jenny Lugar says via press release. "We need to direct growth to
existing
communities. We've grown enough on the outer fringe and clearly need to start filling in blank spots on the roads we already have."
The data analysis also found road length to be a strong indicator when planning active transportation. In neighbourhoods with more than seven metres of road between residents, almost no one walked, biked or took a bus.
Cleveland says
more
in-depth research will be done locally and with cities across the country to further
analyze
the findings. The results were also presented on Thursday afternoon to city hall's planning team.
"The hope here is this will clarify the conversation," he says. "It's in the interest of all residents to shoot for reducing the amount of road we have per resident."
A short presentation on the research and its findings can be
found here
.