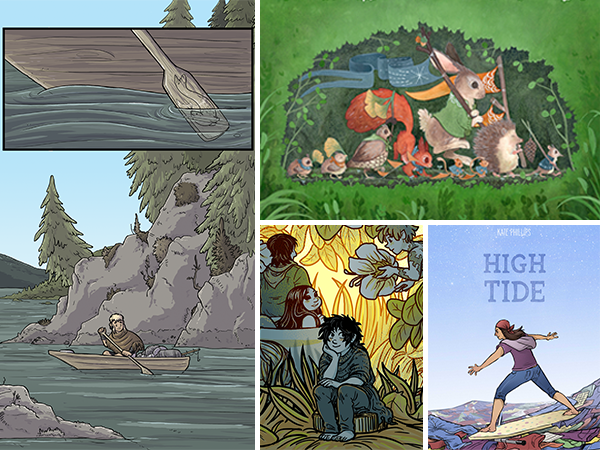 Dartmouth Comic Arts Festival
Aug 17-18, 11am-5pm
Alderney Landing, 2 Ochterloney Street
---
If you want to check the pulse of the international comic book scene, hitting up the Dartmouth Comic Arts Festival has always been a surefire bet. The fest, held at Alderney Landing, routinely brings in top-of-their-field cartoonists and comic creators. For example, this year's roster boasts Ed Piskor and Jim Rugg, two artists who've won the Eisner Award—the comic equivalent of an Oscar.
And while it'll always be a thrill to get your mint-condition superhero comic signed by the hands that sketched it, the best part of DCAF might just be discovering the local talent that abounds. Here, we share four can't-miss artists to check out while perusing the fest's market, 11am-5pm this Sunday.
Sfé R. Monster
Monster is arriving at DCAF with print copies of their two beloved web comics: The sea-monster-riddled Eth's Skin and the queer, sci-fi collection The Beyond Anthology. "I'm a queer and trans artist, and I like to include the ocean in my work because, to me, it represents the transitional and liminal spaces for the stories I want to tell," they say.
---
Kate Phillips
Phillips says she's "been drawing since I could hold a pencil," and, after getting her Bachelor of Fine Arts, has been focusing on passion projects—like the puns-and-wordplay-fuelled comic she and her wife co-wrote about hairstylists who attempt a bank heist (the title? Brush With Debt). She'll have original art prints and comics for sale, including High Tide, a comic "about me procrastinating on laundry, homework and chores."
---
Tegan Thomas
"It's something sort of stereotypical to say, but I come from a creative family," Thomas begins, adding that her grandmother was a watercolourist and Thomas still uses her paints to make soft, lush-with-nature scenes. "I feel like the word 'whimsical' gets tossed around talking about my work. It's picture-book-esque," she continues. Selling fine art prints, stickers and fan art, she says: "I'm really into moss—I think I have a couple of paintings of tiny fairy folk and animals and I like the idea of 'if I could shrink down to that size and sleep on that moss.'"
---
Danie Stirling
Inspired by Art Nouveau, Art Deco and 18th-century children's books, Stirling lands at DCAF with fine-art prints and print copies of their web comics ("my biggest one is Small Blessings, started as a de-stress from my day job. It was close to home and genuine."). "I do comics, so whatever I want to write or draw has to overlap: Lines that throw themselves out there and whatever colour has to go on top of it," they say of their creative process.