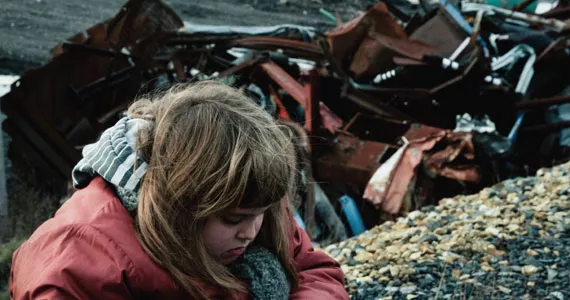 "I'm living," says Ashley McKenzie, in response to the question, "What are you doing in Cape Breton?"
Last year the award-winning filmmaker–her short drama Rhonda's Party received a host of accolades, including the CBC Short Film Faceoff in 2011–moved from Halifax back to her hometown of New Waterford in order to complete a new short, Stray. She hasn't left. The place is in her blood and very much a part of her work.
"Growing up in a working class town, those stories and people, and the struggle people have living here, is ingrained in me," she says. "I'm from a middle-class family, so I don't feel like I've lived those things, but I feel like I was surrounded by it. I guess you can find that anywhere, but this is where I'm connected, to the landscape and people. What I do as a filmmaker is tell stories about what I know."
The story of Stray, her third short following Rhonda and last year's rats-and-break-up drama When You Sleep, is told with a great sense of kitchen-sink humanism, like the kind found in Mike Leigh and Kelly Reichardt's films. But this time out McKenzie took a few more risks in the shooting of her story: A lonely little girl cutting her own hair, listening to the conversation of adults and looking for a cat–all of it exists as much out of the frame as in it. There's a yearning, a feeling of something missing (Lucrecia Martel's formalistic The Headless Woman is a favourite of hers). McKenzie thinks her audience is sophisticated enough to figure out what she's up to.
"I thought that if I stripped things down, putting a lot in the off-screen, it makes it more mysterious," she says. "I think that makes it more intriguing and engaging. I really relied on those techniques. I hope it worked."
McKenzie references a quote by Jean-Paul Sartre about responding to circumstance. It's key to her filmmaking philosophy: "Freedom is what you do with what's been done to you."
"I don't think much about the patterns in what I do, but maybe when I'm editing, trying to end the film, trying to decide what it means and what I'm leaving the audience with. It always ends up being on the lines of finding some kind of truth in hard circumstances."