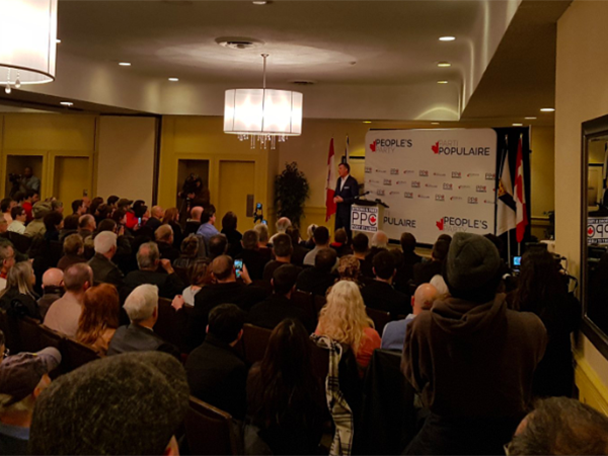 To understand the growing right-wing movements in this province, I subjected myself to the convention for Maxime Bernier's People's Party of Canada at the Atlantica Hotel in Halifax on Friday, January 18. Fully aware of the United States' MAGA movement and the disgusting politics of the alt-right, I was still not prepared for what I was about to see.
Make no mistake, this event was a white supremacy rally.
The former Conservative Party member kicked things off as expected, declaring war on "supply management" and "corporate welfare," talking about ending federal equalization payments, expressing a deep desire to cover Canada from coast to coast in pipelines, all to a mostly muted response from the crowd. Taking advantage of the silence, Bernier introduced his next topic.
"I want to speak about immigration." The room shook as the crowd erupted into wild applause, hooting and hollering with rabid enthusiasm. Bernier didn't stop at denouncing illegal border crossings, going further to attack legal immigration and describe a nightmare policy proposal that sounded like an incredibly difficult and exploitative path to citizenship. He implored that a reduction in the number of immigrants is not only important to the Canadian economy, but also in maintaining "Canadian values" and "Western civilization" for the next 20 to 50 years.
It was around this time that I could overhear hateful comments from the crowd. An older man a few feet away indiscreetly whispered something about "learning the language" to a nearby onlooker.
Bernier could not contain his own glee as he watched the crowd scream in excitement. He closed out by borrowing Trump's familiar phrase, "Let's make Canada great again!" But before he could finish saying "make" the entire audience joined in unison and it led to the second-biggest applause of the night. A few other moments gained traction during the 60-minute dog whistle: defunding CBC, privatizing Canada Post and ending foreign aid. Climate change wasn't up for debate—it wasn't mentioned once.
This was not just a handful of internet trolls or NCA members either. I caught glimpses of the security guard's fire-safety compliance app and saw the room reach 300 people; many were forced to stand. This was echoed by Bernier's shocking enrolment stats—34,000 new PPC party members in four months compared to the 20,000 members currently registered with the 35-year old Green Party of Canada.
If the number of people was overwhelming, the diversity was not. The room was around 97
percent
white and 94
percent
male. There were the expected 80-plus, silver-haired, white men with their crested blazers, but there was a staggering number of young Canadians who emerged from their parents' basements to attend as well. Halifax's most famous Faith Goldy supporter, Matt Whitman, was also there. While Bernier thanked each person for coming out, the controversial city councillor was elated during his turn at shaking hands with the new party leader.
Describing some of the people in attendance sounds like a joke, but right-wing hate groups also appeared to be well represented. The combination of faux-motorcyclists with a cash bar made me wonder if the hotel would even have been safe for a
counter demonstration
. To be clear, these people were not joking.
The PPC convention painted a bleak and terrifying picture for the future of the Canadian political landscape. We live at a time in which we are continually confronted by the failures of liberal capitalism and are increasingly presented with only two solutions: egalitarian, international socialism; or fascist and barbaric white supremacism. The latter has now found a party, a leader and is seeking candidates to run in Nova Scotia for this year's upcoming federal election.
———

Voice of the City is a platform for any and all Halifax individuals to share their diverse opinions and writings. The Coast does not necessarily endorse the views of those published. Our editors reserve the right to alter submissions for clarity, length, content and style. Want to appear in this section? Submissions can be sent to voice@thecoast.ca.