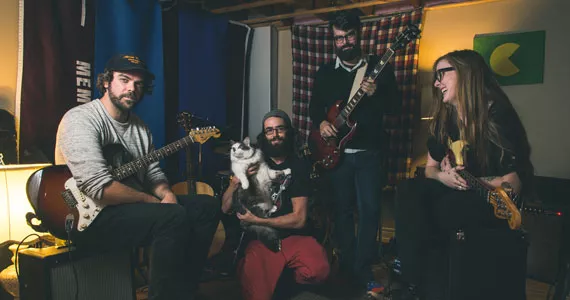 The Town Heroes w/Rain Over St. Ambrose, Owen Meany's Batting Stance The Seahorse, 2037 Gottingen Street Saturday, November 12, 10pm, $13
WHO THEY ARE
Even heroes can suffer from a lack of inspiration. Just ask The Town Heroes, whose two-man, alt-rock style had, after six years, left them feeling stale. While working on 2016's EP Closer, the sound in Mike Ryan and Bruce Gillis' heads didn't match what they were able to produce: "We wanted our sound to evolve. We wanted to expand our sound and not be repetitive. There's limitations when there's only two people onstage," says Ryan, explaining a bigger sound was what it all came down to—a sound so big that four hands couldn't craft it. So, the duo became a foursome, adding Floodland's Tori Cameron on bass and vocals and Aaron Green on guitar and vocals. Friends from past shows who shared bills, Ryan adds they all fell into sync (both musically and otherwise) very quickly. 
With a slew of east coast shows debuting the new Heroes to the stage (including a gig at), they've got a lot of work to do, hammering out set lists for what Ryan estimates to be upwards of three hours a night.
WHAT THEY DO
Meeting at the other original Hero Bruce Gillis' place most nights of the week to "get up to speed," as Ryan puts it, has meant a steady rhythm of new rituals and lots of band bonding: "Those who work day jobs usually chat about how work is going, and we all enjoy a cup of King Cole tea," Ryan says. "People would probably think we're crazy to just keep playing the same songs over and over," he adds, but an expanded lineup means re-evaluating everything about their sound, adding new instrument lines to old songs.
Another part of that expanded vision? Crafting a new album in between polishing up the old repertoire. "We're now capable of capturing any ideas we have. While before we had to gear towards three elements, now those limitations are gone," Ryan says, adding he expects the new record to be released late spring.
The new sound and energy has Ryan feeling excited about what's to come, both musically and otherwise. He mentions touring, adding with a laugh: "It'll be great to have more than just each other to talk to on long drives." Hopefully they don't forget to pack the King Cole, too.