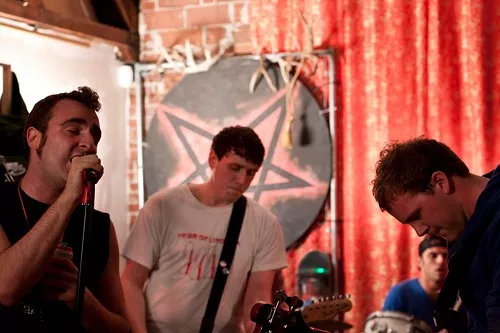 Chantal Routhier
The Graboids at Proskates
Skateboarding and good music go together like peas n' carrots, and the people at Pro Skateboards and Snowboards (6451 Quinpool Road) are proving that the skate shop's current space is an ideal spot for relaxed, entertaining all-ages shows.
After the shop opened at its new location between Subway and Tim Horton's on Quinpool Rd last October, the owners decided to test the waters by getting Napalm Raid to play a promotional party in the spring. "It went really well and no neighbours complained, so we thought we'd try it again," says Zach Tovey, who co-owns the shop with Jon Swinamer and Rob Bell.
Since then, the shop has hosted a handful of noisy shows featuring Napalm Raid, Hellacaust, and a particularly memorable Graboids gig where frontman Adrian Bruhm jumped off a ladder.
In July, the Californian post-hardcore dudes in Touche Amore drew a big, enthusiastic crowd when they played a gig with Castle Wolfenstein, Envision and Blight. The space has drawn the attention of Halifax Pop Explosion organizers, who have booked a gig with Punk Rock Karaoke and a secret guest (!!!) on Friday October 21.
Shows generally happen on Saturday and Sunday afternoons, running from 5 — 8pm. There's some gear left over from casual private jam sessions during the week, but bands should bring their own PA and drums. Bands get to keep all the money they charge at the door - "We're not really in this for the money, " Tovey says.
The shows are held in the shop's massive back room, and the walls - lined with colourful boards - make for an eye-catching backdrop. The atmosphere at the shows is as much a selling point as the space itself. "It's a fun, respectful vibe," says Tovey. "It's nice to see a younger generation coming out, even if they're a little timid and hanging out near the back." While the shows have mainly been punk and metal, Tovey says the store is open to all types of music — "We're interested in having interesting shows," he says. To inquire about bookings, email proskates@gmail.com and include a link to your band's music page.
To see some great photos from previous shows, click here.