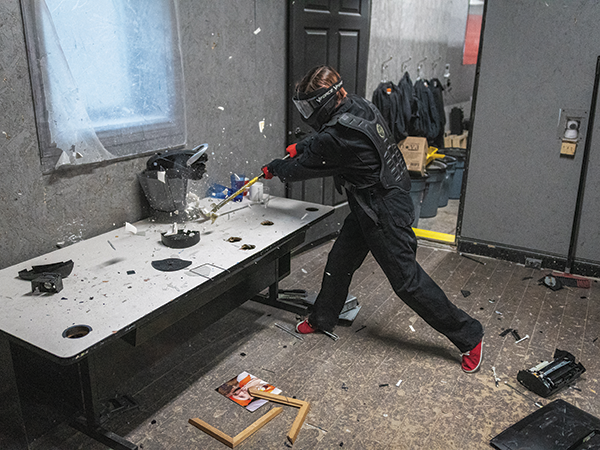 Rage Room Halifax
2820 Isleville Street
rageroomhalifax.ca
---
WHAT HE DOES
Terry LeBlanc has become desensitized to the sound of breaking glass. "I love seeing people genuinely happy!" he shouts over the sound of a computer monitor in the next room being obliterated by a golf club. Perhaps it's odd to associate happiness with a place where people vent their rage, but LeBlanc, co-owner of Rage Room Halifax, says people consistently leave with a smile on their face. At Rage Room, the tiresome warnings you've heard throughout childhood—"be careful with that" or "please don't touch that"—are disregarded. Instead, when clients emerge, cheeks flushed and slightly out of breath, LeBlanc simply asks, "So, what was your favourite thing to break?"
WHO HE IS
Before Rage Room, LeBlanc co-owned a glass business on Isleville Street. When it closed, he knew he wanted to keep the space and start something new. "The area is growing," he says. "I didn't want to leave." A horror-themed escape room came to mind, but LeBlanc wanted something that would attract a broader audience. He googled "smash a room," discovered the concept of rage rooms and the deal was sealed. "I think I spent all night watching videos of people breaking stuff," LeBlanc says. Compared to his glass business, he says Rage Room has much higher levels of customer satisfaction. "People never smile when they get a bill for a new window," he says. "But the percentage of people who walk out of here disappointed is very low." Along with managing Rage Room, LeBlanc is a chef at Mount Saint Vincent University. Eventually, he would like to add a food element to Rage Room, effectively merging his trade and business together.
WHERE HE WORKS
LeBlanc and his mother, Donna LeBlanc, opened Rage Room in May 2018. To transform the space, LeBlanc installed cameras, lined the concrete walls with boards and purchased safety suits. He also made sure that each room was supplied with a Bluetooth speaker for clients who wanted to play their own music. LeBlanc buys items from Mission Mart, Auction Hut and Rick's Riches Thrift Store to stock his endless supply of "smashables"—the objects that are destroyed. After clients leave, LeBlanc cleans the room and recycles all electronic waste and glass. Occasionally, people ask to repurpose the debris into art. As a result, LeBlanc has several miniature Zen gardens assembled from scraps of metal and shards of glass on display at the front desk. On top of providing people with a place to purge their energy, Rage Room has unexpectedly become a way for LeBlanc to support local non-profits, keep waste out of landfills, and even inspire the odd local artist.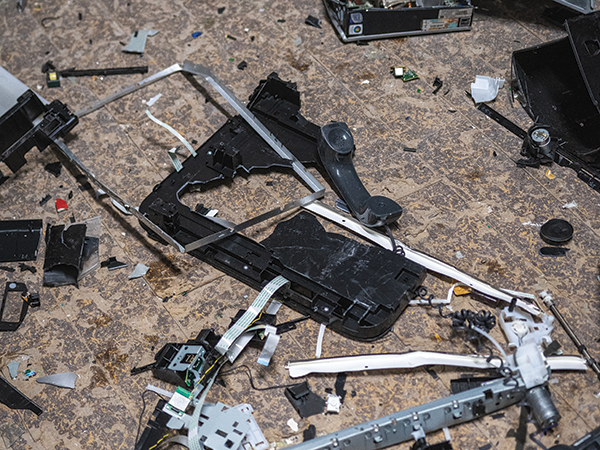 WHY IT WORKS
People seek out Rage Room for all sorts of reasons, and LeBlanc welcomes them all. "We're entertainment first," LeBlanc says. "It's all about having a good time. If you happen to de-stress while you're here, then that's great too." He has seen people bring in stuff their exes left behind. He watched a family convince their 81-year-old grandmother to take a crack at breaking something. Another time, when LeBlanc asked a client how their day was going, the individual simply said, "Well, I'm supposed to be at the altar in five minutes." Rage Room Halifax provides a safe, controlled environment for people who are in need of catharsis, an adrenaline rush or just a good laugh. No matter who you are or where you're at in life, LeBlanc believes everyone needs to cut loose from time to time.