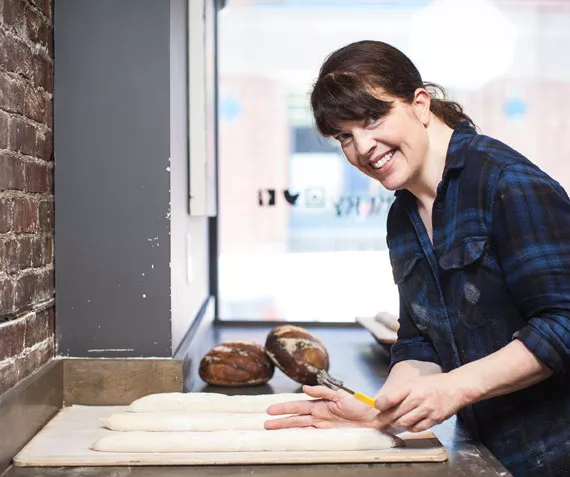 Who she is
Take one bite out of one of Laura MacLeod's chocolate-coated eclairs and you'll know that she's the real deal. Going into culinary school MacLeod didn't have her mind set on baking but to her surprise she fell in love with it. "I think it had more of a design element. It was a blend of things that I like to do, because it's decorative and you do it piece by piece and put it together," she says. After years of interior designing, travelling and culture-consuming, the Dartmouth native opened The Old Apothecary Bakery (1549 Barrington Street) about a year ago.
What she does
As the baker behind the bakery, MacLeod is up and at work at 6am six days of the week. She begins by turning on the ovens and gets to work on preparing bread. "I like the relaxation of doing the bread in the morning because I tend to be doing that when I'm here by myself," she says. Her first tasks are the croissants, shaping the bread and making doughnuts before the bakery opens for the day. Then she moves on to lunch items, like mixing the salads up and getting the desert ready for the new lunch box items, and by afternoon it's all about prepping for the next day.
Where she does it
Before graduating from Vancouver's Pacific Institute for Culinary Arts MacLeod started the search for an historic building in Halifax, with brick walls and hardwood floors. To her disbelief she was fortunate enough to snag 1549 Barrington Street (which was once a pharmacy, hence the bakery's name). After not even a year, The Old Apothecary has already expanded its bright, pop-arty space, making more room to indulge by opening its extra street-level seating last week.
Signature creation
Inside the glass box of sweets everything is a treat to the eye, but for MacLeod signature items at the cafe are definitely the salted caramel brownie and eclairs. "The first day that we opened was during Open City. We made 300 eclairs and we were sold out before lunch. It was definitely an eye opener," she says. "Every time I put something new in the case I stand upstairs for a little while to hear back from customers about whether they think it's going to taste good."
---
The Old Apothecary Bakery
1549 Barrington Street
Mon-Wed, 8am-5pm; Thu-Fri, 8am-6pm; Sat, 9am-4pm