WHO HE IS
Justin Floyd is a chef. It's something he has worked at, studied and now takes pride in, but it wasn't always like that. "I've been cooking for a decade," he says. "In the beginning it was just work, I didn't see it as a career."
But moving to Halifax from Quispamsis six years ago changed his perspective. Going from low-level cooking jobs to working beside sous-chefs Eric Schultz and Joe MacLellan at EDNA pushed him towards becoming a chef.
The years of line-cooking and greasy spoons taught him a lot, even what not to do in kitchens. Now that he's committed to the career, he reads and tries to learn as many worldly techniques as he can on his own time. "When I gain an appreciation for something," Floyd says, "I get obsessive."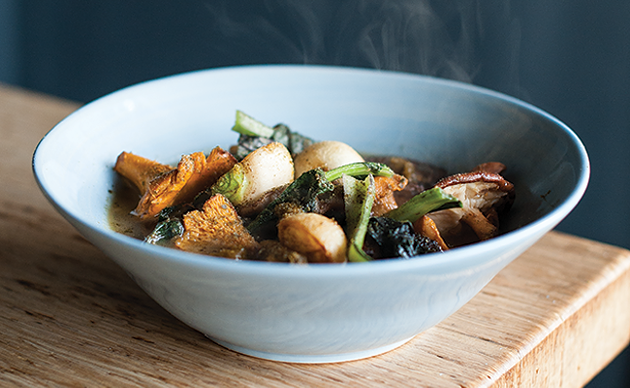 WHERE HE DOES IT
For the last three years Floyd has worked at Field Guide. He started as sous-chef alongside chef and co-owner Dan Vorstermans, who gave him a greater understanding of how to run a restaurant, from managing staff to creating dishes.
For a little more than a year, Floyd has been the chef at Field Guide and has had creative control of the menu while staying true to the roots of the restaurant: "We're unique and based around ingredients first." He scours the farmers' market every week for new inspiration, and the menu comes together from there.
The day-to-day can pull Floyd in many different ways—from food preparation to restaurant maintenance, to errands—but it's the creation of dishes that he finds most fulfilling. Too often, he says, food is made to look beautiful, but falls flat: "I try to keep my dishes uncomplicated, I use three to five components…and find a balance using minimal, simple ingredients—that's the food I like to eat."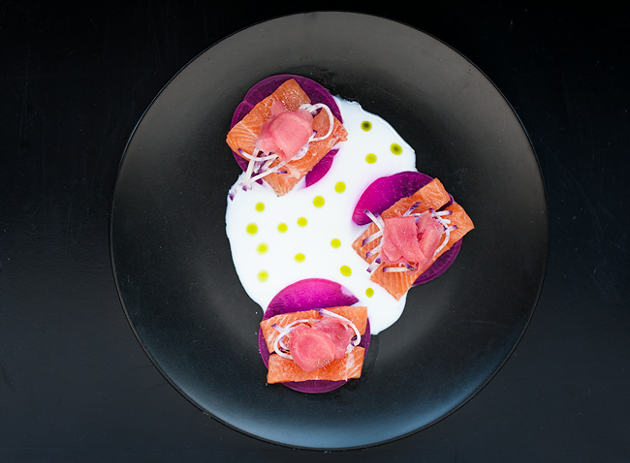 STAYING INSPIRED
Growing up, Floyd's experience with food wasn't fancy; he had busy parents and ate his share of casseroles and meat and potatoes. It wasn't so much the food that he loved, but what that simple food did. "Seeing everyone sit down and eat together was more important than what we were eating," he says.
In his downtime Floyd reaches for comfort food. If he's spending a day off with his partner, he's likely to stop by Sydelle's on the Bedford Highway for a smoked meat sandwich, a cheeseburger at The Chickenburger or visit his other favourites 9 + Nine Chinese Cuisine and Beaver Sailor Diner. He'd find more inspiration at a hole in the wall in South America than a Michelin star rated restaurant any day. "Really good food, the food that brings people together, doesn't need to be overly complex," he says. "And at Field Guide I want to offer elevated food that's unpretentious."
"I see myself growing with Field Guide," says Floyd. He's thankful for the group of young owners— To The Table Restaurant Group, who also own Highwayman—for the trust they've put in him. "They're slowly becoming a force in the culinary scene and I want to be a part of that. I jumped aboard the right ship."