WHO SHE IS
Five years ago, ceramicist Mariko Paterson found a home in Nova Scotia. Originally from Vancouver, Paterson studied, taught and created art in numerous Canadian and US cities. It wasn't until she came to Nova Scotia that she renamed her studio Forage Studios.
One thing she enjoys about Halifax? Its size. For her, the city is small enough that you can breathe and see what's happening around you.
"I just find here—by virtue of it being small and just the actual physical nature of Halifax and Dartmouth and beyond—we're always networking," Paterson says. "I find that everybody helps everybody get ahead."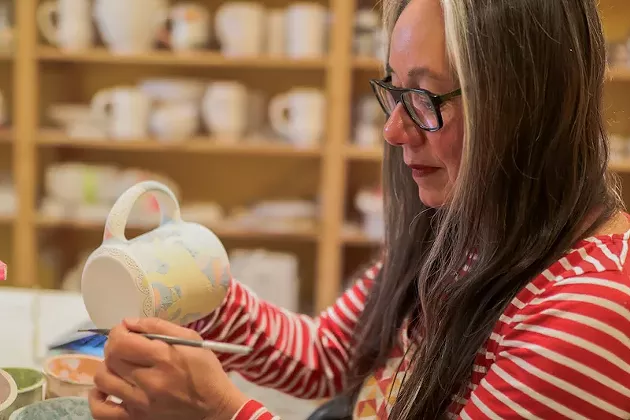 WHAT SHE DOES (AND WHERE SHE DOES IT)
For Forage Studios—which she operates out of her home—Paterson creates functional and sculptural art. From dishes and mugs to decorative pieces (like luxe, large vases), she says she'll touch each piece four or five times.
Paterson draws inspiration from popular culture, her life and the news. In her work, you'll find elements like illustrations of the Yeti and Bigfoot, flaming motorcycles and satirical images of political figures like Donald Trump, Mao Zedong and Xi Jinping.
WHY IT WORKS
Paterson completed her undergraduate degree in ceramics at the Alberta University of the Arts and her master of fine arts at Kent State University. She's lived in Winnipeg, Banff, New York, Michigan, Montana and Denmark for residencies and teaching positions.
But, there's no sign of her leaving Halifax: "It's like having a little family," she says. "And I find that people help you back, too."